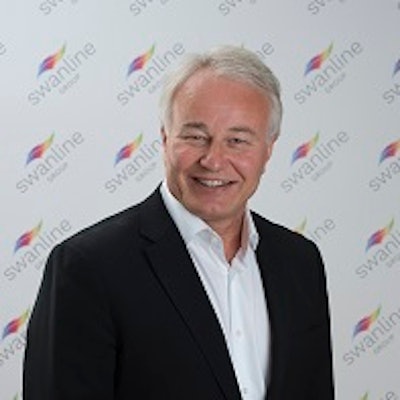 Swanline, UK's leading trade only supplier of fiber-based materials, print and conversion services to the packaging and POS sectors, consists of two companies: Swanline Print and Swanline Paper and Board. Kirby said that outside of the group, Swanline is also strategically aligned with CorrBoard UK, which is Europe's first consortium owned corrugated sheet feeder, and CorrBoard Bioenergy, which is a food waste renewable energy plant dedicated to supplying energy into the sheet feeder next door, making the plant a carbon neutral site.
Said Kirby, "My family goes back in the print and packaging sectors to the 1850s…we've got a lot of history in our family in the print and packaging sector and I've seen a very big evolving market with lots of opportunity. Digital is something that is going to revolutionize, because we are at a relatively early stage - particularly in corrugated."
The message (at the conference) was consistent, said Kirby. "Digital needs a new strategy. You can't really adopt an analog strategy in a more digital world."
Digital print, he goes on to say, especially for corrugated, has been met with cautiousness. Also, it can be expensive and that must be weighed against the new opportunities that can be brought to the business. But, he continues, analog and digital are a great complement to each other and in the case of Swanline, "the analog processes have been strengthened by the addition of digital."
"What we find in our business," said Kirby, "is that digital is not displacing analog all together. They work very well side by side and they're both an advantage to each other. So, it has been very beneficial to our business and it's enabled us to increase our speed to market." Kirby said there have been "many opportunities to integrate analog and digital processes together to give the ultimate solution."
One question is how to sell digital to make it work for the customer? "In our experiences," said Kirby, "this is not like selling a conventional corrugated box which is quite a commoditized market. This is a completely different approach to the sell, and marketing this technology understates its possibilities. Digital has its own place in the market. It is value-added and should not be commoditized."
Kirby also points out that ink coverage needs to be known at the inquiry stage, as this has a "dramatic effect on competitiveness."
There are three types of digital print technology, each with advantages and challenges:
Multi-pass sheet fed (which Swanline uses):
· Short Run
· Versatile material capability
· Comparatively low cost of entry
· Highest quality print modes Large format size
· Established, proven and reliable platforms
· Typically, greater ink usage than single pass
· Slower production speeds – around 500 to 1,000 m2/hour
Single-pass sheet fed digital:
· Short to medium run length
· Comparable quality to offset litho
· Versatile corrugated flute grade range
· Lower ink cost than multi-pass
· High speed – around 6,000 m2/hour
· Largely unproven print platforms
· Cost of equipment is high
· Large factory footprint and additional materials handling is required

Single-pass web digital:
· Evolved from mature position in book printing and direct mail
· Medium and potentially long run capability
· Comparably lower ink cost
· Water-based technology
· Very high speed – potential for 30,000 m2/hour at 2.8m wide
· High quality print with wide color gamut
· Fast speed to market for multiple print volume packaging
Kirby points out that even with single-pass web digital, there are challenges due to the limitations of the in-line corrugating process, which is over 100 years old.
Some general advantages to digital print include: Greater brand recognition; speed to market; no hidden costs; less inventory; no overruns; a drive towards less waste and environmentally friendly solutions; a platform to recover lost opportunity; and, opportunity to enter new markets in packaging.
E-commerce is also a driver in corrugated packaging and the adoption of digital print. Said Kirby, "We've got the experience on the inside of the box and maybe the prints on the outside of the box, a perfect solution for digital version and personalization of print on demand."
He suggests the corrugated sector is a "massive opportunity" for digital print technology. "Machine choice is wide and there's more to come," he said, "so make no mistake, digital has a future in the corrugated sector."
Kirby said corrugator manufacturers are now beginning to collaborate with digital printer OEMs, "which is really good news because that is going to progress web digital, in particular, at an accelerated pace." He continued, "I think it's really good that this collaboration is taking place now because it's a problem that needs to be solved. Corrugated waste streams are being challenged…if you're introducing other processes (such as a digitally printed reel) into the conversion of that digital print, then you are potentially introducing waste, deckle, scheduling and quantity variance issues."
And finally, Kirby closed with this quote: "Wisdom lies not in regretting the inevitable, but in adapting oneself to the altered condition of things." The author? Kirby's Great Grandfather, who used to print the magazine Saddlery and Harness, which represented the horse trade. This was his reply when asked by advertisers to renounce the advent of the combustion engine, which was seen as a detriment to the horse trade.
To learn more about Digital Print for Packaging Europe, click here.

"PMMI Media Group editors have purchased carbon credits through cooleffect.org to ensure any flights we take to cover events in 2020 are carbon neutral."