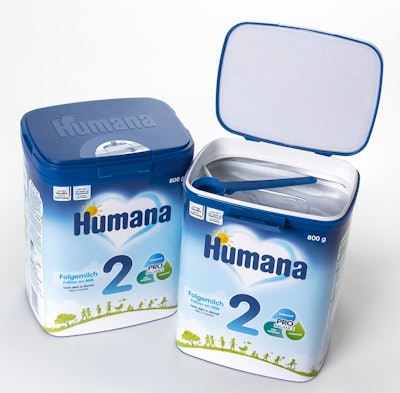 The first customer to commercialize Sealio®, a new style of paper-based container having some strong sustainable packaging advantages, is the DMK Baby division of German dairy producer DMK Group. The firm saw it as the perfect format for its new line of powdered infant milk formula, an initiative in which it invested millions of euros. Sealio was not the only packaging format DMK Baby looked at, but it quickly became the option that made the most sense.
Developed by Å&R Carton of Sweden, Sealio is an advanced sequel to the well-established Å&R packaging system known as Cekacan®. Aimed at the food industry, especially for packaging of various powders, the three main paper-based components of Cekacan—body, bottom, and top membrane—are delivered as flat blanks and then formed into containers. This is what makes it advantageous from a sustainable packaging perspective, since shipping flat blanks to a customer facility requires far fewer trucks and consumes far less fuel than is required when shipping formed empty containers.
Let's first look at Cekacan so that we can better appreciate what Sealio represents. The three main components of Cekacan are multilayer laminations of cartonboard plus other layers such as aluminum foil or various polymers that a specific application requires. Modular tooling can produce a number of different shapes. After the bottom of a Cekacan is induction sealed into place, the container is ready for filling, typically with a granular or powered product.
The top membrane is then induction-sealed in place, after which an injection-molded rim is induction sealed onto the package followed by a lid that is clicked securely onto the rim.
Sealio is, essentially, an optimized version of Cekacan. Like Cekacan, Sealio is aimed primarily at food applications and is formed at the food manufacturer's facility on Sealio machines from flat blanks. But because Sealio is filled through the bottom instead of the top, it eliminates the opportunity for unsightly product residue to appear in the top part of the container. Å&R Carton also points to a tighter reclosure mechanism on the Sealio format. The pack is also improved when it comes to consumer convenience because it has better handling stability and is easy to use by a parent having only one hand free when carrying a baby in the other. And then there's the machinery side of Sealio, which boasts more sophisticated forming and filling than Cekacan. It's state-of-the-art with advanced functions controlled by a touch screen. Also featured is hygienic design and an integrated digitalization system for fast and reliable remote support.
Dairy co-op
Getting back to DMK Group, it's a cooperative owned by 7,500 farmers with production in 20 dairies in Germany and the Netherlands. The DMK Baby division has a focus on infant milk formula, but it has a much broader product program that also includes infant food and food supplements for moms and babies.
"We love babies and know that it's important to take care of the mother too," says Iris Behrens, who is Head of Global Marketing for DMK Baby. "We are there to support parents on their journey with their babies on a natural growth path—that is our mission."
The brand name for DMK Baby products is Humana, a name that has been in existence since 1954. Currently the brand is distributed in more than 60 countries worldwide. Traditionally, DMK Baby packaged this milk formula powder in either a bag-in box or a metal package. A few years ago DMK Baby decided to find new packaging for the future, and word went out to suppliers of packaging systems and packaging materials who might have what DMK Baby needed.
"We obviously knew of Å&R Carton and their Cekacan, and we knew it was popular with some of our competitors," says Ivan Cuesta, Managing Director of Operations within DMK Baby. "So Å&R received a request too. It turned out they were just then developing Sealio® and it piqued our interest. We were given an opportunity to participate in its development and influence a whole new system, even adapting it to our liking to some extent."
Before getting that far, DMK Baby had conducted thorough market research among mothers in six countries around the world to find out what they wanted in a packaging solution for infant milk formula. "We asked what would make moms' lives easier and what would make them feel safe," says Behrens. What DMK Baby learned is that a top-quality appearance was in great demand. Respondents also asked for convenience, as in "I want a package I can handle with one hand because the other arm usually has the baby in it."
The package also had to protect well, had to have appeal, had to be fun to buy, and had to guarantee freshness—even though it's a product that is often consumed within a week. Finally, the package had to have a tamper-evident feature. In the Sealio package the lid has a label that breaks when opening the pack the first time so that parents can be sure it has never been opened. This label is applied by the lid supplier and doesn't require a separate machine in the food plant.
One other request that moms had was that the package should have an attached measuring spoon. DMK Baby and Å&R Carton worked jointly to get the optimal spoon solution. Furthermore, since the Humana logo has a heart in the background, the measuring spoon was given a heart shape. It sits in a holder under the plastic hinged lid but above the foil membrane lidding, and the holder is intended to be used as a scraper so that a precise amount of powder can be measured into the spoon. With this holder, the spoon is always easy to reach and isn't lying in the powder even after the first use.
'By moms for moms'
The new package format is referred to as "myHumanaPack," and DMK Baby's marketing tag line is "by moms for moms." It's available in 650-, 800-, and 1100-g sizes to fit into different markets. Changing the volume in a package is not a problem as long as the base on the package is the same. Shelf life is up to two years, which is equal to the industry standard.
"We are developing nicely with this new solution," says Cuesta. "Demand is increasing, and we've noticed that it has become even easier to get it onto store shelves. People obviously like the format. We also note very positive discussions on social media, where we run a lot of campaigns."
"In addition, we have understood that many consumers give the packaging a second life," Behrens adds. "We can see on social media that people have a lot of imagination when it comes to what it can be used for when it is empty. You can paint it and glue pictures to it and use it for storing toys, for example. This ability to be reused is another thing that makes it perfect from an environmental point of view."
In parallel with the new line in DMK Baby's plant in the German village of Strückhausen, the firm's existing packaging lines for metal cans are used. In some countries, China for example, the metal can is so widely accepted it's almost a given. But where most of Western Europe is concerned, the Humana Brand package that customers will see most consistently will be the Sealio format.
"It was a challenge to get the new line in place, but we have worked very well together with Å&R Carton, which took responsibility for the installation," says Cuesta. "Of course, it never goes precisely according to plans. After all, we are talking about new packaging, a new line, a new factory, and new employees, but now after a couple of months it's progressing. It's an advanced line with lots of software and many robots, so naturally it will require some time before everything is in place."
The production line today has eight to ten operators per shift, but as it gets optimized the idea is to reduce this number some. Annual production capacity is between 25 and 30,000 tons, which in turn means between 30 and 40 million packs per year. Å&R Carton delivers all eight package components to the DMK facility in Strückhausen:
• laminated cartonboard-based blanks for the body
• cut membrane material that gets induction sealed to the top of the container body before filling
• rolls of tape (PE-sealing lamination) that gets applied on the side seam of the container body in the container forming process
• cut sheets of the paper-based base material
• injection-molded PP base trim
• injection-molded PP top trim
• injection-molded PP hinged lid
• injection-molded PP measuring spoon
Go to pwgo.to/5127 to see an animation describing how the package is assembled.
Made by Å&R, both the flat blank that serves as the body and the base that gets attached to the body are a lamination that includes, in addition to paperboard, a thin barrier layer of aluminum and a PE-based heat-seal layer. Å&R also makes the bottom piece and the top membrane, a lamination that includes a thin aluminum layer for barrier and PE-sealing inside. As for the five plastic components in the container, these are manufactured in the vicinity of DMK Baby under careful control of Å&R Carton. Quality and hygiene requirements are consistently very high.
Optimized functions
The brand-new production line in Strückhausen, which has been running since January, has a total length of 450 m (1476 ft.). That includes conveyor connections, case packer, and palletizer. The line is based on proven Cekacan technology but with optimized functions. The Cekacan® patented sealing technique is the same, but more than 20 new patents surround the technology in Sealio®.
DMK Baby's Gerhard Baalmann, Executive Director, heads up the factory in Strückhausen and was kind enough to play tour guide on the day Packaging World visited the high-hygiene production hall. "Designed to work around the clock, the line is based on a canister maker (S1), a filler/sealer (S2), and a lid applicator (S3)," says Baalmann.
First a paper-based blank is pulled from a magazine feed and formed into a cylinder around a mandrel. PE tape and heat sealing combine to give the cylinder a side-seal seam. The cylinder is then sent through special tooling to give it its final shape. Then the top membrane is induction sealed on and a top rim is also induction sealed in place. The containers are then inverted and discharged on a conveyor leading to the filler. Because the line stretches a considerable distance, DMK Baby created an arch of sorts to free up floor space. This was accomplished by using a pair of spiral conveyors from AmbaFlex. One spiral conveyor raises the containers to a height of about 10 ft. The containers are conveyed a distance of about 10 ft. and then return back down to floor level on the second spiral conveyor. Through the resulting arch, people, materials, and even fork lifts can easily pass.
According to Å&R, customers can pick just about whatever powder filler they like. In DMK Baby's case, the filler is a 12- head rotary volumetric system from Optima. Filled packages pass a checkweigher from Mettler Toledo and then are conveyed into a Jorgensen chamber measuring 1500 x 3000 cm where ambient air is evacuated and nitrogen gas is backflushed into the headspace of the inverted containers. Approximately 300 containers fit into this chamber, and the amount of time spent inside the chamber is about 2 minutes.
In the next station, the base is induction-sealed in place. Then the injection-molded base rim is induction sealed on.
At this point the containers pass a Domino Ax 55-i Continuous Ink Jet printer that puts variable data including a unique 2D data matrix code on the bottom of each container. The unique codes are generated and managed by a serialization solution from Rockwell Automation. More on this in a moment.
Having been filled through the bottom, now the containers are uprighted and enter another system from Jorgensen. It deploys two Fanuc LR Mate 200i 7c robots to pick magazine-fed measuring spoons and snap one spoon into each heart-shaped holder molded into each top rim. Once the container has been opened and is in use, consumers snap the spoon back into this heart-shaped holder, a more sanitary way of storing the spoon than if it were actually in the product itself.
Worth noting is that the measuring spoons and other plastic components arrive in double PE bags. They are not sterilized, but the risk for contamination is minimized because the outer PE bag is removed outside of the hygienic production zone. Inside that zone, an operator removes the remaining PE bag and places the plastic components into magazines from which the components are picked. Also worth noting is that a Cognex vision system inspects each container exiting the Jorgensen machine so that no package leaves without a measuring spoon.
Hinged lid application
Application of the hinged lid is next, but first the single-filed packages are split into two tracks because the lid applicator is a dual-head system. The lids are picked from a magazine feed by a servo-driven picking head and attached to the top rim by a snap fit. No adhesives or other additives are used.
When containers leave the lid applicator, they pass an X-ray inspection system from Mettler Toledo that automatically rejects any package having in it any unexpected or undesired components. After this, packages run on a conveyor to a wraparound case packer supplied by Meypack. This machine takes two or three primary packages at a time, depending on the pattern, and turns them 90 deg. Then they are arranged in two or three lanes, and the case is erected around them. Pattern flexibility is great, so the machine can be adapted to a variety of pack arrangements with no loss in speed.
As we mentioned earlier, each Sealio carton has printed on its bottom a unique 2D data matrix code. Inside the Meypack machine is a Cognex camera located just before the point where the Sealio packs go inside the case. For each case produced, this camera reads the unique data matrix code on the bottom of each Sealio pack that goes into that case and sends that data to the Rockwell serialization software for aggregation purposes. The Rockwell system then generates a unique code to be printed on the corrugated case that establishes a parent/child relationship between the cartons in the case and the case itself. This case code is either printed directly on the case by a Domino ink-jet printer, or it's applied by a thermal-transfer print-and-apply labeler, also from Domino. It all depends on what certain regions prefer.
The serialization and aggregation capability that comes with the printing of the 2D data matrix code and the use of Rockwell's serialization solution is very important. It means that each package becomes unique, which means that DMK Baby can trace the content back up the supply chain right back to the dairy farmer whose cows produced the milk from which the milk formula was made.
Cases are conveyed on a covered transport path to a palletizer from Jorgenson that uses two robots supplied by Fanuc. The final step in the packaging process is stretch wrapping on a system supplied by Cyklop.
"Sealio is a concept that is 'state of the art' in food packaging and is based on all the experiences we have learned over more than 15 years that we have been working with Cekacan as packaging for infant milk formula," says Johan Werme, Sales Director for the packaging systems at Å&R Carton.
The food industry is the main target for the new Sealio®system, but it will also be able to find new markets in other areas such as pharmaceuticals. The tobacco industry is already using the Cekacan packaging for tobacco.
Companies in this article