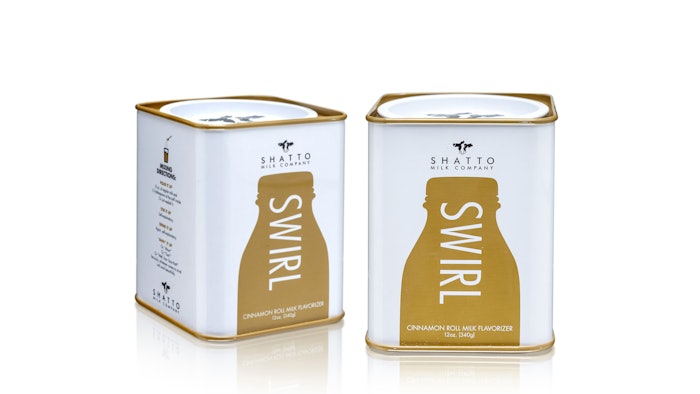 Shatto Milk Co. of Osborn, MO, prides itself on providing "Pure Honest Milk. No Bull." That's according to its website, which also includes other clever quips, such as, "The cows can't speak. So, we let the milk do the talking," "From Our Farm to Your Face," "Why buy the cow when you can get the milk down the street?" and "See the milk we put into our milk." These witticisms are followed by details about its growth hormone-free products and the fact that its products come from its generations-old family farm.
Unlike many major milk brands that use paperboard cartons, Shatto uses a glass bottle, chosen the company says because it speaks to the farm's 100-plus-year-old history, keeps the milk colder and, being recyclable and reusable, provides a more environmentally friendly alternative. So, when it came to selecting a package for its unique milk "flavorizer" product, it went with one that was equally as nostalgic and sustainable—a specialty metal tin.
"Our brand is based around good, old-fashioned quality and customer service. Thus, a lot of what we do comes from decades past," explains Shatto Milk Vice President Matt Shatto. "We felt the tin reflected our brand and our focus on sustainability much more so than a plastic jar."
The flavorizer itself was born when Shatto Milk noticed its seasonal flavor offerings were being demanded by consumers much longer than the two-week period in which they were offered. The challenge was to find a way to offer these flavored milks year-round, without having to worry about shelf life and freshness. The resulting product comes in a powdered format in five flavors—Dreamy Orange Dream, Vanilly Vanilla, Sweetie Strawberry, Super Blueberry, and Swirl Cinnamon Bun—that can easily be added to milk.
To market the product, Shatto Milk wanted to use a specialty tin that would grab consumer attention on-shelf near the refrigerated dairy section, while visually complementing its existing packaging. Having worked with Berlin Packaging for several years, Matt Shatto says the company felt comfortable that Berlin's network of suppliers and product knowledge could help it design the best container and brought the idea to Berlin in summer 2016.
Berlin specified a stock 76 x 76-in. square tin with a friction-fit lid supplied by the Global Division of Berlin Packaging that holds 12 oz of product. The tin is silkscreen-printed in three colors and is decorated with graphics that pair the simplicity of the Shatto Milk brand with the outline of a colorful milk bottle, chosen to conjure up nostalgic feelings of childhood The lid is also printed with Shatto Milk's branding.
The flavorizer was launched in spring 2018 in local grocers and specialty shops throughout Missouri and Kansas as well as through Shatto's online home delivery service. The company is currently in discussions to expand the availability of the product to national chains and distributors.
Says Matt Shatto, "Customers love the packaging. They enjoy the old-fashioned look and feel and have commented on how the package mirrors our bottles very well. As for the product, customers who move out of town are so glad to be able to enjoy something Shatto and not have to worry about the perishable nature of the product. Those that prefer a strawberry milk in skim, versus what we sell as whole are also thankful for that the option is now possible."
Companies in this article