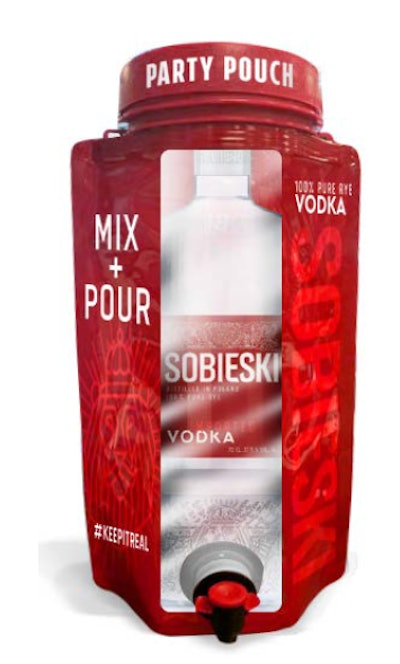 Last year, Sobieski Vodka took a new tack in branding its 100% rye vodka from Poland, relaunching with new packaging and a new messaging campaign positioning the product as "free of pretense or flash." Says Corinne Nassif, Vice President of Marketing for Sobieski, "The aim was to reposition the brand as the perfect choice for those who do not want to pretend, who are seeking real moments."
Simple and streamlined, the new bottle uses a bold red label and strong white lettering. To further support the "authentic moments of truth" message, the brand initiated a number of in-store programs. Among them, it developed the Sobieski Mix & Pour Party Pouch, which sees the bottle packed in the Glacier Bag from RP & Associates, a sturdy pouch with dispensing tap that can be used to mix and dispense drinks.
Says Nassif, "The dispenser is ideal for house parties, providing the perfect way to prepare and share simple cocktails with friends."
The pouch is made from an eight-layer construction that includes PET, polyethylene, and nylon and was designed to be reusable, dishwasher safe, and suitable as a gift package. The pouch is a stand-up format, with a dispensing fitment positioned at the bottom front of the bag and a screw-on closure on the top. Nassif shares that the pouch is assembled in Poland, with the dispensing spout manually applied and heat-sealed. There also the 750-mL glass bottles are placed into the pouch through the pouch opening, after which operators screw on the closure.
Graphics for the pouch are as streamlined as those for the bottle, with the Sobieski red printed around the edges of the package, upon which is printed the brand logo in white. The lid and tap mechanism are also red. The center of the pouch is clear, offering a view of the bottle inside. On the back of the pack are recipes for Watermelon Punch and Berry Lemonade. "But of course, any mixer can be added to our Sobieski Vodka," says Nassif.
The Sobieski Mix & Pour Party Pouch launched in July 2018, timed to leverage the house party season, and is now offered in independent liquor stores and chains, at no additional cost. "The response from consumers has been very positive," Nassif says. "It is innovative, useful, fun, convenient, and great for parties."
Companies in this article