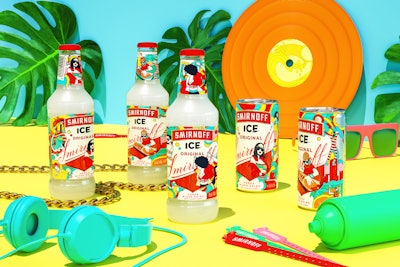 Smirnoff Ice has unveiled limited-edition label designs for its bottles and cans to connect with Latin America's growing culture of taking the party to the streets. The vibrant and colorful on-pack designs take inspiration from popular musicians and music genres that resonate with this audience and position Smirnoff Ice as a catalyst for good times. More broadly, the designs demonstrate how global brands can assert relevance in regional markets, introducing and celebrating local culture while remaining true to the core brand.
Brand design agency Vault49 was responsible for designing the new graphics. Says Leigh Chandler, Creative Director and Partner, for the agency, "As the party moved from the bar to the street, younger consumers were turning to premium beer for upbeat occasions. We felt strongly that Smirnoff Ice belonged in this space and wanted to bring the brand into this occasion. As we explored local consumer attitudes in Brazil, Costa Rica, Panama, and Mexico, we landed on a universal form of expression: music."
Recently, Smirnoff redesigned its core packaging to reintroduce a layer of heritage and, with this project, was looking to strike a balance that seamlessly integrated the new look with the vibrant, colorful feel of a limited edition to engage with millennials.
Ongoing projects in Latin America mean the team at Vault49 has a deep understanding of the region, and a culture study provided further invaluable insights into local trends and shifting behaviors. Adds Chandler, "We really enjoyed researching what's resonating with consumers in terms of culture, celebrity, and music, and then depicting this in a vibrant and energetic way. It puts Smirnoff Ice at the heart of the party and reaffirms its credentials as a brand for everyone.
"We approached this project by first creating an illustration that captured a 'Rhythm Journey'—an abstraction of a street party which captures each musical genre along the way through the use of key characters. Once we had created this key visual, we adapted it to compliment the Smirnoff brand assets and applied [it] to a series of three different bottle designs and two can designs.
"We also created a playful animation that really brings the cast of characters to life off-pack, celebrating and reinstating Smirnoff Ice's position as a drink of choice for any street party in Latin America.
"We're so thrilled to see the local markets bringing the campaign to life through various themed activations."
Companies in this article