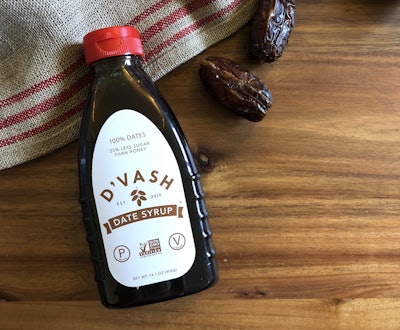 Consumers can now drop a bottle of date nectar in their purse or bag for sweetening products on-the-go and can opt for a drizzle of date syrup at home from a new squeeze bottle, both from D'Vash Organics LLC. The 5.6-oz travel-size glass bottle and the 14.1-oz squeezable PET container join the Los Angeles-based company's flagship product, D'Vash Date Nectar, which is available in three varieties in a 16.6-oz glass bottle.
Founded in 2016, D'Vash Organics creates alternative sweeteners using only natural, non-GMO ingredients. Its Date Nectar is made from organic California dates, while its syrup, in the squeeze bottle, is made from dates grown in Dubai, "for the same great taste at a lower price point," says the company.
D'Vash introduced the new formats to provide greater consumer convenience at a lower cost; the original, full-size bottles are priced from $10.99 to $11.99, while the travel-size and squeeze bottles are $5.99 and $4.99, respectively.
Says Co-Founder & CEO Brian Finkel, "We wanted to create a lightweight and easy-to-use option, something that could fit right in your bag or purse and would be convenient to bring anywhere at any time. Many of our customers use D'Vash in tea and coffee, so we wanted to provide an option they could take on-the-go, to coffee shops, restaurants, etc. Also, the travel-size and squeeze-bottle options are priced lower than our standard bottles, giving the consumer the option to purchase D'Vash in a smaller amount before committing to the larger bottle."
Finkel says D'Vash worked with the plants that package its products to procure bottles that worked best with their equipment, as well as aligned with the D'Vash brand. "We wanted the 5.6-ounce bottle to match the elegant and distinguished look of our other organic products, including the original 16.6-ounce date nectar," he says. "We received a lot of feedback from customers who were looking for a more portable and convenient size, but we didn't want to compromise on aesthetics."
Both bottles use a flip-top cap with a small opening that controls the flow of product and prevents spilling.
The new product sizes were introduced in January in the 4,000 stores nationwide where D'Vash is sold. These include Whole Foods, Sprouts, Wegmans, Jewel-Osco, and Meijer. The nectars and syrup are also sold online via Amazon, Thrive Market, and the D'Vash website.
Says Finkel, "Customers seem to really like the more lightweight and portable nature of both new products. Some prefer the more elegant glass, while others prefer the functional plastic squeeze format."