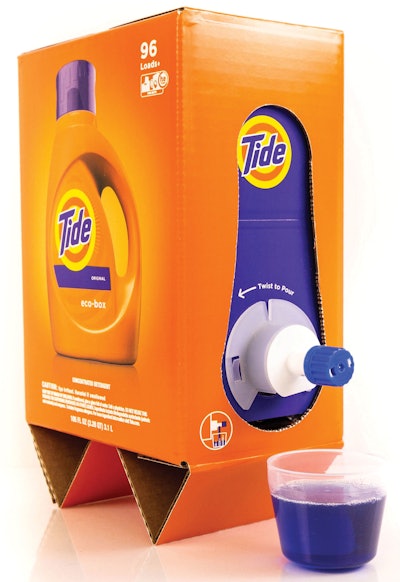 Tide has reimagined its classic liquid detergent with a new Eco-Box package containing 105 fl oz of an ultra-concentrated formula. Designed specifically for e-commerce, the Tide Eco-Box arrives on a shopper's doorstep with no more outer packaging than a low-density polyethylene film wrapping to prevent marring of the package graphics. Inside the brightly decorated corrugated is a sealed bag of ultra-concentrated Tide liquid laundry detergent. To use, a perforated flap is peeled off to reveal a dosing cup and a new "no-drip" twist tap. To make dosing simpler on flat surfaces, the box includes a pull-out stand to raise the height of the box so the cup fits easily beneath the tap.
The name "Eco-Box" is a nod both to e-commerce and the lighter shipping footprint these packages are designed to deliver. Products sold online usually need to be packaged with a second or third layer of packaging, typically corrugated boxing and bubble wrap that's then discarded by the consumer. To address this, P&G Fabric Care's eCommerce Innovation Group designed the Tide Eco-Box to ship as efficiently as possible on its journey from a manufacturing site to a retailer's warehouse to a consumer's front door.
"We know that the 'last mile' remains the biggest challenge both economically and ecologically in e-commerce," says Isaac Hellemn, Brand Manager for eCommerce Innovation in P&G's Fabric Care group. "The Tide Eco-Box is designed to keep the convenience of online shopping for the consumer but reduce the overall impact of that convenience on our environment."
What the new Tide Eco-Box represents is perhaps best appreciated in a comparison with the extrusion blow-molded high-density polyethylene Tide press-tap that is widely available in stores nationwide. The ultra-concentrated detergent in the Eco-Box means that even though it contains just 105 oz, it still washes the same 96 loads of laundry that the 150-oz press-tap container does. P&G says the Eco-Box contains 60% less plastic and 30% less water and weighs about 8 lb compared to the 12-lb press-tap format. Moreover, the Eco-Box takes up less space because of its optimally cubed format, so greater quantities of product can fit on fewer delivery trucks compared to shipments of the press-tap format.
"For the first time, we have designed a package 'e-comm-back,' beginning with the unique challenges and opportunities the e-commerce environment presents," says Sundar Raman, Vice President of P&G's North America Fabric Care business. "This is a fundamentally different approach than we've taken in the past and represents our relentless obsession with delighting consumers – wherever they want to purchase our brands."
How it's built
We asked P&G's Ty Martin, Associate Director R&D Packaging for Fabric Care, for a nuts-and-bolts description of the innovative new package, including the identities of key vendors on the supply side who might have played a role. While vendor information is not available—nor is Martin at liberty to say whether the packaging is being filled internally or by a co-manufacturer—we were able to learn a fair bit about how the Eco-Box is built.
Essentially this is a bag-in-box format similar to the many bag-in-box wine offerings now on the market. The corrugated box itself is a single-wall construction with a preprinted linerboard. Inside is a pre-made bag with a dispensing tap assembly. The bag is made from a multilayer lamination. The tap assembly consists of three molded parts. Describing it as essentially a stock item, Martin does point out that it delivers a delightfully neat, clean, no-drip dispensing experience. One final packaging component is a simple white low-density polyethylene film that is shrink wrapped around the package to keep the graphics from getting scuffed or otherwise damaged during transit in the e-commerce channel.
What's most important from an e-commerce standpoint is that this package is a perfect example of the highly sought after SIOC—that is, it Ships in Own Container. The shrink-wrapped boxes get palletized and sent to a P&G Distribution Center and then to the Amazons, Walmarts, and Targets of the world who purchase and inventory them for e-commerce sale to consumers around the world. The beauty of a SIOC is that no outer boxing or void-filling or packaging of any kind need be done by Amazon et al. Just put a shipping label on the shrink-wrapped film and off it goes.
The process of filling begins with removal of the tap and filling of the bag. "Remember, the tap is a three-piece component," says Martin. "One part is a fitment that remains attached to the bag while the other two components are removed for filling."
The filled bag is then dropped into the erected box and the tap is snapped back into the fitment. Presumably all of this is done on a machine in an automated fashion, though Martin describes the overall filling operation as partially automated. "The final manipulation to get it closed involves some manual as well as automated closing operations," says Martin. Shrink wrapping is done by machine, and then the finished packs are palletized and stretchwrapped.
P&G says it will continue to innovate in the e-commerce space as it adapts its product offerings for the channels its consumers are shopping. "We have some pretty exciting e-commerce projects we're working on, and that shouldn't be surprising," says Hellemn. "e-commerce isn't a trend anymore, it's a reality, and we're excited to keep innovating for it."
The Tide Eco-Box will be available exclusively online at major e-commerce retailers in the U.S. beginning in January 2019. This packaging format will be sold in addition to Tide packaging formats currently available online and will be available in the Tide Original scent. Suggested retail price for the Eco-Box is $19.99, which essentially matches the SRP for the press-tap bottle sold on shelf at retail.
Companies in this article