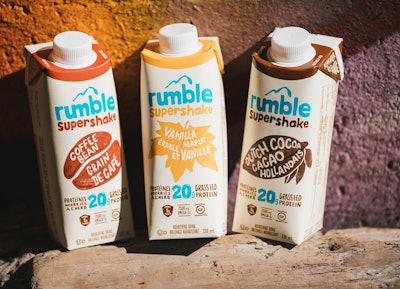 Rumble most certainly appreciates the power of package design. Back in 2012, the Victoria, BC firm introduced two flavors of its health beverages in a striking 12-oz resealable, recyclable Alumi-Tek® bottle from Ball.
Fast-forwarding to early 2019 finds the company reintroducing reformulated products in three varieties filled into combismileBig 330-mL (11-oz) carton packs from SIG.
Paul Underhill, Rumble Creator & Co-Founder, says, "Innovation and sustainability lie at the core of our brand, and as we took the opportunity to renew and improve our formulation, we sought a container that was consistent with these values. We are excited to be relaunching Rumble in the combismile packaging and hope our customers will love the packaging as much as they do the improved formulation."
Rumble describes the packaging as having a slanted top, a round cheeks "smile" at front, and grip corners, all designed to emphasize product differentiation. Aside from the ergonomic and unique shape, the carton allows for convenient consumption from the pack with a single-action closure that is both leakproof and tamper-evident.
"The move to the combismileBig paper-based carton means more renewable materials from FSC-certified forests and less reliance on fossil fuels," explains Martin Nikleva, Rumble's Operations & Marketing Manager. "The cartons ship flat, so they are much more efficient to ship when compared to fully-formed containers and are 100-percent recyclable. We also can easily roll out a four-pack configuration, something we could not achieve with the [previous] bottle."
Rumble's Dutch Cocoa, Vanilla Maple, and Coffee Bean varieties, says Nikleva, deliver 12-month shelf stability and are best consumed chilled. All flavors use certified grass-fed proteins and butter, coconut MCT oil, and a new organic veggie blend. The Dutch Cocoa flavor now uses organic Fairtrade cocoa.
Although filling details were not disclosed for competitive reasons, Nikleva does say, "The combismileBig carton sets the stage for more innovation in Rumble's beverage lineup given it can easily scale up and down in size, while also being much better for the environment."
Companies in this article