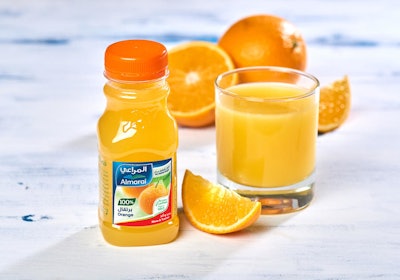 Two complete PET lines were installed in the Al Kharj facility of this Saudi Arabian beverage producer. Since high speed and reliability coupled with great product quality were among the top requirements from this customer, Sidel was deemed a most suitable machine supplier for the job.
Since its founding in 1977, Almarai has grown via strategic investments, becoming the largest producer and distributor of food and drink in the Middle East with a market capitalization exceeding $12.5 billion.
When Almarai recently reached out to Sidel, they needed to increase the production capacity around the single-serve format of orange juice (200-mL) bottled in PET and handled under cold chain distribution. As the leading position in the juice market, Almarai decided to install two new Sidel PET complete lines, each one handling 54,000 bottles/hr, in the Al Kharj central processing plant (CPP).
As the largest food manufacturer and distributor in the Middle East, Almarai strives to operate to the highest standards of international best practice, starting from the processing step: the two new PET complete lines installed at the Al Kharj production site – the first ones Almarai awarded to Sidel – employ the processing equipment and capabilities of Tetra Pak Processing Systems. This represents a further testament of a successful cooperation, benefitting from experience and learnings gained in nearly 100 joint complete line projects from around the world. The TPPS process equipment captures the natural taste of the product and ensures it is safe to drink.
According to Anurag Sharma, Sidel Sales Manager in Saudi Arabia, "The key challenge was to find a solution able to ensure greater efficiency, so as to strengthen profitability and optimize Total Cost of Ownership (TCO). All of this had to come without compromising top product quality, a must-have for Almarai considering the great sales performance of its orange juice. To address this within the two complete lines, Almarai opted for the Sidel Combi. Integrating blow molding, filling, and capping processes into a single system, the Combi reduces operating costs and uses up to 30% less floor space compared to traditional standalone equipment. Using fewer component machines, the solution offers up to 4% higher efficiency levels than standalone machines, on top of lower energy consumption and faster format changeovers. This results in a reduction of operating costs by up to 12%, saving labor, raw materials, and spare parts."
Each Combi supplied to the Al Kharj site is equipped with a Sidel SF100 filler, ensuring optimum uptime and the highest productivity. Its "dual-speed" valve allows consistent performance and the best drink quality, especially when handling beverages with pulps. Additionally, both magnetic flowmeters and filling valves are equipped with plungers, leading to higher accuracy and more efficient filling and cleaning. In fact, the system allows for no clogging and an easier removal of pulp residual. For greater product safety and ease of operations, the tight enclosure with HEPA filter allows for top hygiene, while Cleaning In Place (CIP) requires no intervention from operators thanks to the automatic dummy bottles.
Companies in this article