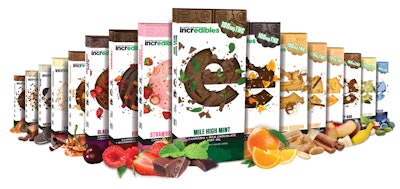 Since Colorado legalized the use of medical marijuana in 2000 and the recreational use of cannabis in 2012, the market has grown and evolved significantly. So too has one of its oldest companies, MC Brands, which offers edibles, extracts, and wellness products under the incredibles, incredible Wellness, incredible Extracts, and incredible CBD brand names. The company was founded in 2010 by Bob Eschino and Rick Scarpello, who together brought a combined 30 years in business development and food production expertise to the venture.
In an August 2018 article in WestWord magazine, Eschino said, "We honestly we thought we'd make a couple hundred edibles a week. Years later, we're selling a couple hundred thousand units per month in Colorado."
Among the keys to the brand's success—particularly in the edibles arena—have been its branding, grassroots outreach, intellectual property, and "incredibly" yummy products, which include infused chocolate bars, gummies, mints, and tart candies. In fact, its chocolates are the most nationally-awarded infused products in Colorado. The company is also well known and respected for working with the state to advocate for child-resistant cannabis packaging, along with clearly marked and stamped edible products.
Another aspect of the brand that helped build its cult following was its original "old school" packaging, which featured bold, bright, and fun graphics. For example, it used a buffalo illustration for its milk chocolate with toffee Boulder Bar and a jolly cartoon buddha for its Peanut Butter Buddha bar. According to Lily Colley, National Director of Marketing for MC Brands, the packaging was extremely functional and "truly loved," as incredibles was such an early cultural fixture on the Colorado scene. Yet, in the Wild West of Colorado's early recreational cannabis days, regulations changed so often, the company was confined to using a cost-effective, child-resistant, silver foil sachet-like package decorated with a sticker that could be easily changed as new regulations were enacted.
Says Colley, "For the first few years, regulations evolved regularly, which prohibited companies from investing in long-term packaging inventories. Because everything would change, for example, we would need to add a new badge or there were size minimum requirements for net weights, all previous packaging was rendered useless.
"But as the market and consumers began to evolve and mature, one of our biggest needs was to also evolve the aesthetic of our package." Among the company's goals was to update its aesthetic to match its growing national presence as well as communicate the features of its product that make it truly unique: gluten-free, sustainably-sourced oils, and chef-developed recipes.
Redesigned packaging raises 'the bar'
Within the incredibles line of edibles, hands-down the most extravagant and mouth-watering package is the box used for its chocolate bars. Featuring a virtual explosion of flavor, the graphics combine sophisticated artwork and printing techniques with snippets of the original illustrations, beloved by consumers.
Says Colley, "One of the biggest challenges, in my mind, was how to evolve the package so it could compete with some of the big mainstream and celebrity brands coming onto the market while not forsaking our heritage as an authentic, core-cultural brand in the cannabis space."
Her strategy was to let the ingredients of each product tell the story and combine that with color, a core attribute of incredibles' original labels. Central to the design is a lower-case "e" icon, with a bite taken out of the top corner—a design that has been federally-trademarked by MC Brands. The color of the "e" icon coordinates with the flavor of the bar (there are 16 in all). Emanating from the "e" is a blast of ingredients. For example, for the Affogato 500 bar, splatters of caramel, pieces of chocolate, and espresso beans explode forth from the "e" against the package's white background.
"Each one of our boxes is a little piece of art in itself. Those exploding ingredients you see on the front of every single package are essentially a little still life," says Colley. "We worked with local photographers and artists to build those and photograph them each individually, and then we built the box backwards around those authentic ingredients."
At the top of the box, it appears as though the chocolate bar is peeking out, with an "e" and the milligram strength designation embossed on each square. At the bottom of the box are the graphics that harken back to incredibles' original sticker art. Both the top and bottom colors coordinate with the "e," making the design very color-strong. This was purposeful, says Colley, so that in those markets where cannabis edibles packaging cannot include images of ingredients, the package can still stand on its own. From a merchandising perspective, she adds, every Pantone color was hand-selected, so if the boxes are lined up on their sides, the colors will produce a rainbow effect from left to right.
Exemplary cannabis packaging structure
The packaging is not just pretty, though. It also meets Colorado's regulations for edibles with sophisticated packaging technology. The chocolate bar box, supplied by Atlantic Packaging, uses a child-resistant, reclosable carton design from Locked4Kids. To access the box's contents, the consumer must squeeze two tabs on either side of the carton, while sliding out a tray with the chocolate bar. The package is also tear-proof and is airtight, providing the product with up to a one-year shelf life.
Introduced in 2018 in Colorado and nationally in 2019, incredibles' new package design has been "incredibly well received, by both dispensaries and consumers," relates Colley. "Primarily the feedback from dispensaries is that the product display is so much better—the packaging parlays the quality of the product. Also, the bars are much easier to store than they were before. And, consumers are just drawn to the new package—they now pick it up off the shelf because it's so fun, because it's so bright, and because it looks so delicious. We've definitely seen a boost in sales as a result. It has truly been an honor to evolve the incredibles brands. In 2019 I look forward to the continued growth of our incredibles Wellness product line into unique and high CBD formats. "
Companies in this article