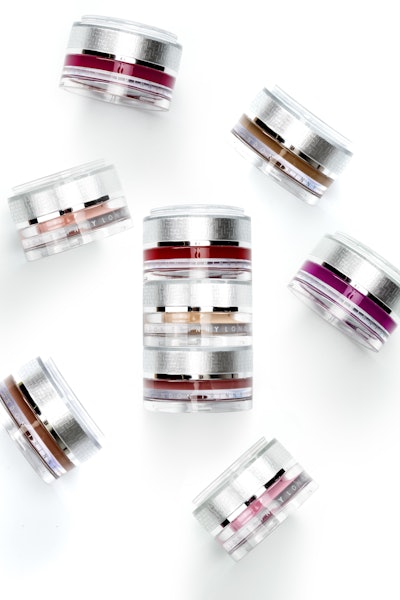 A new makeup concept and company, U.K.-based Trinny London was developed by founder Trinny Woodall to help women create their own personal "stack" of face, eye, cheek, and lip colors. The stack is made up of transparent 5-mL pots that snap together, for a convenient, portable, and colorful kit of custom makeup blends.
"For the last 20 years, I have worked with women all over the world to find the most flattering styles, the best skincare, and the most hard-working, perfectly matched, foolproof makeup," says Woodall. "As I traveled the globe, I improvised my own personalized makeup kit. In a quest for the perfect tone and consistency, I would mix a stick foundation with a liquid, blend a lip tint with a gloss… . I mushed up colors and decanted them into little pots. And then I thought, 'There has to be a better way.' The big idea was born: a portable, versatile range of makeup to suit every woman."
The concept was under development for three years, Woodall explains, and included experimentation, planning, and the creation of formulas and state-of-art technology to help women pinpoint the makeup that best suits their individual needs. The online-only company lets consumers use the brand's Match2Me online tool to customize their stack based on based on their skin, hair, and eye colors. The products, formulated to be applied using a fingertip, are available in 55 SKUs—with that number continually expanding.
As Sonia Cerato, Category Manager, Make-Up Division at Quadpack explains, the makeup pot, or jar, is a custom package from Quadpack Industries that includes a base and lid, with the base featuring a click-fit functionality that allows it to latch onto the cap of another jar when stacked. The PETG jar is transparent, allowing the blendable makeup to show through and is labeled on the bottom with product information. The cap comprises two parts: an inner, matte-silver cap and a clear, outer cap engraved with the Trinny logo on top and a matte pattern on the side. The two parts are attached via sonic welding.
"The outer cap is transparent and sits raised on the inner part, like a viewing window of the silver interior," says Quadpack. "The tope edge has a smaller diameter with a discreet rim that grips onto the base of another jar when stacked. When seen from the side, the pack features a transparent, textured silver, and glossy silver bands, which are amplified when part of a stack."
Trinny London launched in October 2017, with the product Highly commended for Design and Packaging at the Pure Beauty Awards held in May, in Dubai. Consumers seem to hold the concept in high esteem as well. Says Cerato, "Taking a look at social media gives you an idea of just how enthusiastically the range was received, showing that it fulfills a real need among today's busy women." —Anne Marie Mohan
Companies in this article