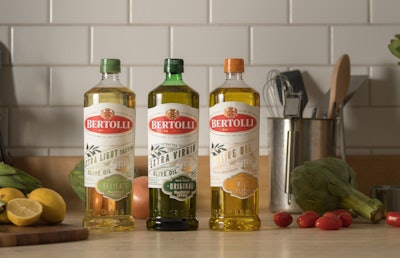 The city of Lucca in Tuscany, Central Italy, is known for its well-preserved Renaissance fortifications that encircle the city, and a public square—"the heart of Lucca"—where buildings stand in an elliptical ring around the site of a long-gone Roman amphitheater. It is also known, to some, as the birthplace of Bertolli Olive Oil, first produced there in 1865 by Francesco Bertolli and his wife, Caterina, in their small shop.
Nearly two years ago, Bertolli brand owner Deoleo launched the company's largest-ever packaging rebrand. "The redesign was one of the organization's highest priorities for nearly 18 months," says Fernando Herrera, Vice President of Marketing for Deoleo North America. "As a global brand, we wanted to not only harmonize the design across the entire world, but also be locally relevant."
Tapped by Deoleo to take a modern, yet authentic, approach to the redesign while paying homage to Bertolli's Italian heritage, packaging design firm Stranger & Stranger drew inspiration for the redesign from the brand's provenance and its history of innovation. Bertolli was responsible for many "firsts" in the olive oil industry. It was the first to use glass bottles for olive oil packaging in the 1950s, when other brands were in metal cans and drums; it was the first to identify on the label the important health benefits of olive oil; and it was the first to introduce different types and flavors of olive oil to the American market.
The most distinctive feature of the package redesign is the oval shape of the new PET bottle, chosen to evoke the heart of Lucca. "With this bold choice in structure, consumers will be able to more easily identify our products on shelf," says Herrera. This oval symbology is repeated in the logo, which has remained the same, and in a cartouche at the bottom of the label for three of the six products in the line that designates variety: Delicate, Original, or Mild. Unchanged is the use of the Bertolli logo embossed on the top of the bottle and the container's dark color, which protects the product from the degrading effects of light.
The label is also decorated with an illustration of a sailing ship to represent Bertolli's legacy as the first brand to export olive oil as well as to denote the great migration of Italians to America. The drawing is encircled by the words, "Pioneer exporter of olive oil to the USA." Small details in the label's typography are said to be a nod to Bertolli's quality, authentic Italian past, and heritage.
The new bottle—in 200-, 250-, 500-, and 750-mL and 1.5-, 2-, 3-, and 5-L sizes, depending on variety—were launched in stores at the end of March 2018, with both retailers and consumers responding favorably to the new design. Says Herrera, "They like our approach in celebrating our legacy and heritage, and it's a welcome change for a company that has been bottling and selling olive oil worldwide for over a century."