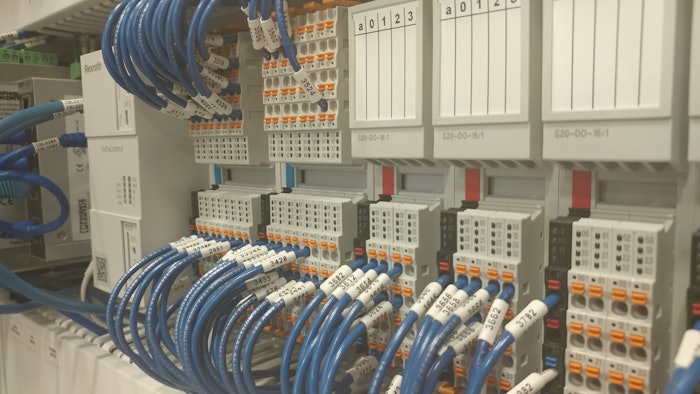 A leading producer of equipment used to make paper or plastic cups and containers, Paper Machinery Corporation is now introducing the PMC 2500S, a servo-driven machine that has advanced forming capabilities and offers forming-tool changeover in less than a shift.
The IndraControl XM Series PLC from Rexroth is at the heart of the 2500S. "This device is the workhorse of our application, handling all logic and motion control functions, as well as data communication to other devices," says Jeremiah Moll, PMC's Systems Engineering Manager. "The servo drives and motors are also from Rexroth, providing us with a completely integrated solution. The decision to use these devices came after an extensive evaluation of our application. The Rexroth solution outperformed the others in regard to motion control. And with motion control being the central design theme of the project, the decision to move to a complete Rexroth solution was an easy one."
The 2500S, which represents an integration of technological capabilities of the PMC 2000S—and the now-discontinued PMC 1250—optimizes the servo platform and quick-tool change of the 2000S. The 2500S produces tapered cups and containers at speeds to 170/min, forming paper or polypropylene containers ranging from 4 to 46 oz, depending upon configuration.
Containers can be produced in straight-wall, nested, round, or non-round versions. The 2500S forms preprinted and die-cut or roll-fed sidewall material into a two-piece container with a vertical side seam, recessed bottoms, and optional top-edge finishes of straight-edge, rolled-rim, flat-rimmed, or inward fold.
"PMC is the first and only manufacturer of servo-driven cup and container forming equipment," says Michael Hansen, VP Packaging.
Moll adds, "The implementation of servo technology allows us to be more dynamic in our machine builds, and it differentiates us from the competition. We can accommodate a wider range of customer needs using the same machine platform."
PMC will officially unveil the 2500S at PACK EXPO International October 14-17 in Chicago. The first company to receive the machine is cup maker Visstun. Visstun is known for its cup imprinting methods and high-definition convolute cups, particularly for promotional applications, where it can print corporate images on flat PP sheets and then form them into cups on custom-engineered equipment.
Companies in this article