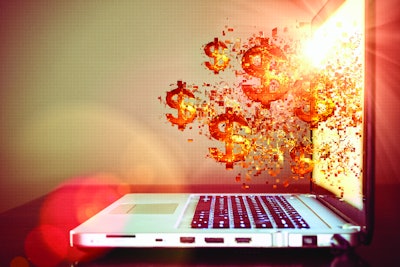 It wasn't that long ago that e-commerce was just a blip on the radar of Consumer Packaged Goods companies. In 2014, the business-to-consumer e-commerce market in the U.S. was $304.9 billion, says the U.S. Department of Commerce, and consisted of home delivery of products such as shoes, clothes, home goods, jewelry, electronics, and books versus household essentials and food and beverage products.
Flash forward to 2017 where total e-commerce sales were estimated at $453.5 billion—an increase of 16% from 2016—with $14.2 billion coming from online grocery sales, according to online statistics portal Statista.com. By 2025, online grocery sales are predicted to capture 20% of total grocery retail to reach $100 billion in consumer sales, a study conducted by Nielsen for the Food Marketing Institute reports.
While currently online grocery's share of the total $641 billion U.S. grocery market is only 2% to 4%, according to FMI-Nielsen, the numbers are expected to continue growing, with the center store shifting online faster than other departments. Since consumers have begun ordering household essentials and food items online, e-commerce for grocery has grown to encompass a number of channels, including direct delivery, in-store or curbside pickup ("click-and-collect"), subscription boxes, and meal kits. Top grocery items purchased by delivery or click-and-collect are those in the health, personal care, household, pet care, and snack categories. Curbside pickup is the option of choice for consumers buying fresh produce, canned foods, milk and creamer, and packaged breads—this according to FMI-Nielsen.
The biggest drawback for fresh food online ordering, however, is that consumers want to see and choose products such as produce and meats. But clever companies in the e-commerce space are looking at solutions to this problem as well: Boxed.com has launched an augmented reality tool for viewing products, while Walmart is investing in drones and livestreaming cameras.
In 2017, at PACK EXPO Las Vegas, PMMI Business Intelligence conducted interviews with 50 CPGs and OEMs about a variety of topics, including e-commerce. The general consensus in the resulting report, "Top To Top Summit Report 2017," was that most CPGs know they have to do something, and many have budgets to explore options, but they're not crystal clear on strategy yet. But all agree there is an opportunity to engage a particular segment of shoppers that promises big returns and prompts discussions about special e-commerce product launches, new packages and promotions, and building relationships with consumers.
In this E-Commerce Special Report, some of the top-of-mind CPG concerns around packaging are addressed, including package design, sustainability, specialized packaging equipment, and Amazon's packaging requirements.
Package design central to Jet.com's new private brand, Uniquely J
Private-brand products have become an essential offering for grocery, mass, and club-store retailers. Nielsen estimates that total private-label sales for 2016 amounted to $150 billion. Their success comes from their competitive pricing, high quality, and product and packaging innovation versus national brands, all of which drive sales and consumer loyalty.
Taking a page from brick-and-mortar, e-commerce companies in the grocery and household essentials space have begun launching their own private brands for the same reasons. Among them, Amazon, with its Happy Belly snacking range, Mama Bear baby food and diapers, and others; Boxed.com's Prince & Spring line, which includes household, personal care, food, and other items; and Thrive Market's natural food and household products line.
In fall 2017, Walmart-owned Jet.com—one of the fastest-growing e-commerce companies in the U.S.—unveiled its "carefully curated" Uniquely J line of 50 SKUs, comprising coffee, cleaning, laundry, pantry, paper, and food storage products. The target demographic: the Urban Millennial.
As Camilla Crane, Director of Strategy at Elmwood—the brand design consultancy involved in the project—explains, there were several strategic considerations behind Walmart's choice of the Urban Millennial. First, because Walmart is so strong with the more suburban or "driving" cities in the U.S., "it made sense to add something unique to their offering versus directly competitive." Another was that Jet.com felt the group's unique needs were not being fully addressed by other online retailers, offering a clear opportunity.
Among Urban Millennials' distinct needs are:
· Convenience, as modes of transportation are significantly different in dense urban areas.
· Great prices, without the need to sacrifice on the experience or quality.
· Aesthetics and storytelling. Having limited storage space, the urban dweller appreciates products that can be displayed on a counter or shelf.
Jet.com also kept this demographics' desire for eco- and socially-conscious products in mind, offering cleaning products with plant-based ingredients, USDA Certified organic and Fair Trade Certified coffee beans, and BPA-free plastics for food storage bags.
One of Jet.com's primary considerations in building the brand was packaging—both the functional and aesthetic aspects. "There are many special packaging considerations to take into account for items sold via e-commerce," says Laura Kind, Brand Director, Uniquely J, Jet.com. "These include, but are not limited to, glass versus plastic, structural integrity of boxes, and fluids that do not leak. An example of a choice we made was to use high-quality plastic for our [cooking] oil range rather than glass."
Upon receiving Jet.com's design brief in fall 2016, Elmwood saw three big opportunities, according to Ben Greengrass, Creative Director. First was to define a unique and exciting approach to online private brand that made shopping fun. Second was to spark a more emotional connection and drive an immediate purchase desire through packaging. And third, to consider the full consumer experience. "Consumer expectations around private label have changed dramatically," says Greengrass. "We needed to build a brand, not a private label—something distinct that consumers could proudly display in their homes and share with their communities."
The resulting package designs are unexpected, wildly unique and fun, counter-worthy, and endlessly social media-sharable. For each product line, an artist was chosen to bring a unique perspective. For example, packaging graphics for the Uniquely J line of coffee capsules and ground and whole bean coffee were done by illustrator Iain Macarthur. Says Elmwood Head of Client Partnerships Nulty White, "We had collaborated in the past and knew his style would set the category alight.
"For coffee, we wanted to create something with a 'rebellious' attitude. In the design, there is a real provenance story, so aside from an attitudinal centerpiece illustration that connects firmly with the product—for example, a Sumatran tiger—a more subtle story is told in the more subliminal parts of the illustration. Region-specific plants, flowers, and traditional patterned textiles all add to each rich, visual story."
Pricing for Uniquely J's products is competitive, while reflecting the quality of the items. Uniquely J's 54-ct single-cup coffee, priced at under $20, comes to 37 cents per cup, while its Uniquely J Bamboo Cedar Sport Laundry Detergent 2X Strength, yielding 33 loads and costing $9.99, comes to 20 cents per ounce.
See more examples of Jet.com products.
Meal kit company tackles sustainable packaging
One e-commerce channel focused squarely on fresh food delivery that has had a meteoric rise over the last several years is the meal kits market. According to a report from Packaged Facts, "Meal Kits Delivery Services in the U.S., 2nd Edition," in 2017, the meal kits market was worth $5 billion.
Given meal kits' growing consumer appeal, in 2016 CPGs Hershey and PepsiCo tested the waters, partnering with meal kit provider Chef'd to provide desserts and Quaker Oats breakfast-based meal kits, respectively. Last year, grocery retailer Kroger introduced Prep+Pared meal kits, featuring fresh, seasonal, prepped, and measured ingredients, available for purchase in stores and through ClickList, Kroger's click-and-collect online grocery service.
More recently, CPGs have invested in meal kit start-ups that give them direct access to consumers through home delivery. These include Unilever's $9 million investment in Sun Basket, Nestlé's minority investment in Freshly, Tyson's collaboration with Tovala, and Smithfield's $25 million investment in Chef'd.
While meal kits offer convenience to busy consumers and reduce food waste by pre-portioning ingredients, packaging has been a concern for both meal kit customers and providers alike. Namely, the amount required to contain all the premeasured ingredients as well as the insulation and freezer packs needed to keep them cold, much of which cannot be recycled.
But some meal kit companies are taking a more sustainable approach. One example is San Francisco-based Sun Basket. With a mission of generating zero waste, the company only uses packaging that is 100% recyclable or compostable for the 1.5 to 2 million certified-organic meals it produces each month.
Sun Basket's corrugated shippers are made from a blend of recycled and virgin fibers and are curbside-recyclable. Gel packs from Nordic Ice, formerly Temperatsure, are made from low-density polyethylene and contain a gel made from 98% water and 2% non-GMO cotton. After use, consumers can cut the gel-pack pouches open and drain the contents into the trash or a curbside compost bin. Pouch film can be taken to recycling centers that accept #4 plastic films. Plastic bags used to hold ingredients are also LDPE. For its containers, Sun Basket uses curbside-recyclable PET; its jars, with bases made of polystyrene and lids made of polypropylene, are accepted for recycling in some municipalities. On its website, Sun Basket offers links to resources where consumers can find recycling information for their area.
Sun Basket's newest packaging improvement is the use of Sealed Air Product Care's TempGuard™ insulation material. The thermal liner is created by filling kraft paper with a uniform inner batting made from recycled paper fibers. The porous, cellulose-based fiber filling creates a pad that not only maintains proper temperatures for up to 48 hours, but also cushions contents during handling and transit.
Until fall 2017, Sun Basket used 100% PET insulation, but it switched to TempGuard as it "views paper curbside recyclable as the most desired recyclable standard to meet due to the breadth of acceptance," says Michael Golub, Head of Strategic Initiatives for Sun Basket.
In addition to its recyclability, TempGuard is also thinner than Sun Basket's previous insulation material, which allowed the company to reduce the size of its shipping cases by 25% across the board while maintaining the same internal space for food.
Brands redesign packaging for e-commerce shipping
Ever since consumers began ordering household staples and groceries online, CPGs have questioned whether selling products through this channel will require a change in their retail package design. How will graphics designed to stand out on shelf translate to the digital world? If a package is made more functional for shipping, can it still convey the brand experience? Will all the work done to establish brand shapes, labels, etc., be diluted? Is it worth the cost to stock different SKUs for different channels?
So far, the changes have come primarily in the form of structural improvements to existing packages to provide greater product protection, eliminate product leakage, reduce the amount of dunnage needed to secure the product, or solve other shipping-related issues. One such example comes from The Honest Co., well-known for its baby, personal care, cleaning, vitamin, and other products made from safe ingredients. It all began with a new laundry product, explains Tien Nguyen, Senior Industrial Engineer for Berlin Packaging's Studio One Eleven—the firm involved with the project.
"Liking the basic structure of an existing Califia Farms' almond milk bottle, The Honest Co. wanted to create a packaging solution for their new baby fabric softener," Nguyen says. "When leaking challenges arose with their existing 70-ounce detergent bottle, the project focus shifted to a redesign of the entire household laundry line for the burgeoning e-commerce environment."
Studio One Eleven quickly recognized that the dosing-cap closure would play a critical role in reducing product leakage. The firm's solution was to design a new polypropylene closure with a thick, high-density polyethylene foam liner that minimizes the assembly gap. Says Nguyen, "It is the thickness that distinguishes it from typical cap liners."
The closure sits level with the bottle, marrying the two components. The cap is easily removable while maintaining an air-tight seal. To stop the "glugging" that occurred with the old spout, the new design has a longer cut-out spout that increases airflow and provides controlled pouring.
As for the bottle, the new design has a softer, rounder shoulder that improves top load, while its heavier weight improves drop resistance and creates a premium feel. An ergonomic handle allows for easy, one-handed gripping and pouring.The bottle is used for all of The Honest Co.'s laundry detergent and softener products, in 35-, 70-, and 100-oz sizes.
Another example of a package redesigned to withstand the rigors of e-commerce is a salsa jar from Houston-based contract packager Consolidated Mills, which produces its own line of products under the Alamo Red Foods brand. A redesign of its glass salsa jar to Amcor's Apex™ PET jar with metal lug closure was undertaken when owners/brothers Keith and Scott Vrana decided they wanted more control over the distribution process than was afforded by the retail model.
"Our ultimate goal was to control our brand, including how we supply the product to our consumers," says Keith. So Consolidated added a "shop" feature to their Alamo Red Foods website to allow consumers to purchase their three varieties of salsa online.
Consolidated Mills' existing salsa package was a standard glass jar. To provide a better e-commerce solution, the company needed a more durable and lighter-weight alternative. Says Keith, "After seeing a sample of the new Apex jar, I knew this would be a game changer for the e-commerce industry."
To facilitate the commercialization of the Apex jar, Consolidated Mills enlisted TricorBraun Design & Engineering Group, which worked with Consolidated Mills and Amcor to trial the new package. One of the goals of the trial was to determine if the jar could be capped with the redesigned lug closure, supplied by Crown and Massilly North America Inc., with minimal changes to the line. Says Keith, "We couldn't have done this if a large financial investment was needed to change the setup and the equipment." Luckily, the only modification required for the Massilly-supplied steam-injected capper was an adjustment in the height.
Another goal was to learn how Consolidated Mills' existing package label would work with the new PET jar. "Because we do not have a cooling tunnel, we allow the jars to naturally cool in the shipper box after being filled and labeled, so our main concern was how the labels would react to the PET material," says Keith. "We did see some problems initially, but our label supplier [Alliance Graphics & Printing] recommended a new material that corrected the issue." The new label material, PrimeScan® from Spinnaker Coating, is a clay-coated polyolefin that is waterproof, tear- and grease-resistant, and resists temperature fluctuations.
Says Keith, the advantages of the new PET jar versus glass are numerous: "Using the PET jars greatly reduces the decibel levels during production, and we don't have to worry about broken glass shutting down the line. Our cases weigh three pounds less now, reducing our freight cost, and because we are now shipping plastic containers, we are able to eliminate the extra packaging costs needed for e-commerce." When shipping glass, Consolidated had to wrap the jars in bubble wrap before placing them in the case.
"Our goal is to get all of our salsas plus our other Alamo Red products, including Bloody Mary mixes and barbeque sauces, into hot-fill PET jars," says Keith. "We will also encourage our private-label customers to switch to PET as well."
On-demand boxes save money, enhance customer experience
When speaking about the relationship between e-commerce and packaging, the discussion usually centers on the physical pack. Often overlooked is the innovation taking place around packaging equipment to meet the specialized needs of this channel. While traditional distribution channels involve large volumes of similar-sized packages, e-commerce requires extreme flexibility, especially in terms of secondary or tertiary packaging. Shipping cases may be constructed of heavier material to help the package withstand the 30+ touches it may undergo during distribution; void fill or insulation may be required; and case or bag sizes may need to be changed on-the-fly, among other considerations.
One category of machines that has sprung up in response to e-tailers' need to optimize shipping-case sizes is on-demand box-making equipment, which can custom-manufacture boxes to fit each individual order size. Advantages of this technology include reduced warehouse space for premade boxes, lower shipping costs, reduced corrugated and void fill usage, and greater protection for products that fit snugly in their shipping case.
There are currently several manufacturers of this equipment. For Newegg Inc., a consumer electronics e-commerce company based in City of Industry, CA, the best solution was Packsize's On Demand Packaging® system.
Established in 2001, Newegg offers close to 10 million consumer electronics products, with 50,000 stocked in its warehouses, and the rest offered through its market-based channels. According to Jeffrey Zeng, Senior Director of Corporate Engineering, Logistics Department for Newegg, since its launch, the company has differentiated itself through efficiency and customer service. With strategically located facilities throughout the country, Newegg can provide two-day shipping to more than 90% of the U.S. and Canada and offers will-call and various pick-up options. It also ships to more than 50 countries.
"We offer a lot of unique products with competitive pricing in the IT categories, because we are a destination for people who are either building a computer or are geeks or gamers. They want the latest and the greatest," says Zeng. "Beyond that, we're selling some of the same products at the same price as our competitors, so supply chain becomes the differentiator. Therefore, we focus a lot on supply chain efficiencies as well as on being very customer-centric."
Being customer-centric means making sure the customer has a good experience with Newegg, especially post-purchase, Zeng adds. "When we ship product to the customer, besides getting it to them fast, we want to make sure the box the product comes in is optimized and secure," he says.
One technology used by Newegg to securely package products that don't fit into its standard size cases without a lot of dunnage—or that are too expensive to be left on a customer's doorstep in a box clearly identifying it as having come from Newegg—is on-demand box-making. Between 2012 and 2016, Newegg installed six Packsize CNC-controlled converting machines across its four U.S. facilities, including two model EM7-25 systems at its Indianapolis facility. The 412,800-sq-ft Indy facility stocks 10,000 SKUs and uses the Packsize machine to handle 20% to 30% of its orders.
As Chuck Cornwell, Warehouse Manager for the Indianapolis site, explains, the decision to install the Packsize machines was based on the high costs of DIM weight, or dimensional weight, pricing, a method adopted by carriers such as UPS and FedEx that favors denser packages over those that are lightweight. "Most of our shipping costs are calculated by DIM weight," Cornwell says. "Although we do have 10 large, standard-size boxes, by using them for some of our multi-SKU orders, we end up adding a lot of dunnage. If we can get a box smaller than say a #10 box [21¾ in. L x 16¾ in. W x 11¾ in. H], and we can put it in a Packsize box, we can save a lot of money on shipping."
To determine whether an order will be packed into one of Newegg's standard case sizes, a Packsize case, or some other packaging format, e.g., a padded envelope, the company relies on the dimensions of each product. Every time a new product comes into the warehouse, it is measured and weighed by Newegg's Cubiscan dimensioning system. When Newegg receives an order from a customer, its Warehouse Control System—an Exacta conveyor control system from Bastian Solutions—calculates the combined dimensions of all the products and specifies the correct box size. If a custom-made box is required, the WCS sends the cubing calculation to Packsize's PackNet software.
If the order contains a number of SKUs, for example, all the components needed to set up a computer system, it goes to Newegg's small-item area, or "smalls," where one of the facility's two EM7-25 machines is located. Using the information from the WCS, the machine creates a custom case blank from Packsize's proprietary z-Fold™, or fan-fold, corrugated stock. Newegg uses 32 ECT E-flute corrugated made with 100% virgin material, which provides the sturdiness required for the high-value items the company ships. The machine in smalls is equipped with three tracks, each holding a different width of corrugated—17¾, 23½, and 28¾ in.—to minimize scrap. Notes Zeng, the machine can create 200-plus case sizes, accommodating Newegg's most common SKUs.
Once the case blank exits the machine, an operator seals the side of the case using a Nordson adhesive system, erects the case, and applies an LPN (license plate number) label that was printed at the same time as case converting. From there, the operator places the case on an infeed conveyor. As the case is carried along the conveyor, scanners read the LPN and direct the case to those zones (there are three) from which the items in the order are picked and packed. When the order is complete, the case is conveyed to the shipping area, where labels are automatically printed and applied.
The other EM7-25 is located in what Newegg calls the bulk area. Here, items like laptops and other high-value electronics are packed in custom-made cases that do not carry Newegg branding. "We'd love to have the Newegg name on the box, but if someone sees a box on a doorstep that has our name on it and is the size of a laptop, they're going to know what's in it," says Cornwall. "So, it's best to use a plain box for those products."
For these items, pick operators "pick to card," meaning they scan a card with the order and then find the item (for bulk, it's usually just one) from pallet stacks. They then deliver a number of orders on a pallet to the Packsize along with the card for each order. Here, the Packsize operator scans the card, which tells the machine what size box to create from one of three sizes of corrugated—17¾, 23½, or 31¼ in. Once the box is glued and erected, the operator manually packs it with product. From there, another operator adds air pillows, if needed. Next, the case is conveyed through a 3M case taper, after which it is conveyed to the shipping area.
The Packsize machine in smalls runs at 1,000 to 1,200 cases/shift; in bulk, it's 490/shift. (The EM7-25 is capable of running at 250 to 500 cases/hr, depending on the box size.) Explains Cornwall, "We're not necessarily worried about the speed, but rather the throughput of the entire process. Ultimately, it's all about the customer experience, so we focus on the flow of merchandise to the shipping dock to get the order to the customer within two days."
Amazon demands certification for new vendors
The team at Fuseneo Inc., a package design firm in St. Charles, IL, has worked to design packaging for some of Amazon's own products and is helping to communicate the direct-to-consumer giant's e-commerce certification program to prospective partner companies. In a presentation at Smithers Pira's Sustainability in Packaging U.S. conference, held in March in Chicago, Brent Lindberg, Founder and Principal of Fuseneo, told attendees that Amazon will continue to evolve and drive packaging design and reduction, especially in the coming year. "Amazon has been on this journey of Frustration Free packaging for 10 years, and they are going to get bullish headed into 2019," he said.
According to Lindberg, if you are a vendor and want to have your products listed for purchase on Amazon, you must complete a certification test based on new ISTA (International Safe Transit Association) tests, ISTA 6-Amazon.com. Independent labs must test and certify each package configuration. Fuseneo works with brand owners to design packaging to meet Amazon's criteria.
Amazon has three certification levels: Prep-Free Packaging, Ships in Own Container, and Frustration Free Packaging. These certifications are designed to ensure that products survive their journey to the consumer and do not require prep or additional packaging from Amazon.
Two examples where prep may be needed are the addition of a plastic overwrap to shampoo bottles or other liquids that could leak, or bubble wrap for fragile items. Brands attending the Sustainability in Packaging conference reported that they are often charged for this prep performed by Amazon. As a result, they are working to design for Amazon certification to eliminate those chargeback fees.
"Brands need to design their products and packaging to survive the e-commerce channel," said Lindberg. "We can't assume that something that was designed specifically for retail will meet the needs of a very different supply chain, and we can't expect Amazon to over-package these products to compensate for these shortcomings."
Many larger brands have elected to hire a dedicated Amazon brand specialist; smaller brands probably won't have a direct line to Amazon. "We want to help brands navigate the certification process and redesign their packaging to make a sustainable transition from retail to e-commerce," Lindberg explained.
He added that Amazon is working to reduce outbound packaging by using more recyclable mailers and fewer corrugated boxes. Consumers will be seeing these packages, which will sport the Amazon logo, arriving on their doorsteps in the coming months. —Jim Chrzan, Publisher, OEM & VP/Content and Brand Strategy
Report captures CPG e-commerce struggles
The synthesis of nearly 60 CPGs' candid opinions on a host of topics captured late in 2017, PMMI's Vison 2025 delves into how brand owners are tackling e-commerce. Most agree that you have to be in the space, even though there is much about it to figure out. Correspondingly, they note that there is a lot of capital going toward e-commerce in their respective companies.Learn about their growing pains, and how they're figuring it out, by downloading the entire report for FREE.
Companies in this article
Videos from Nordson Corporation