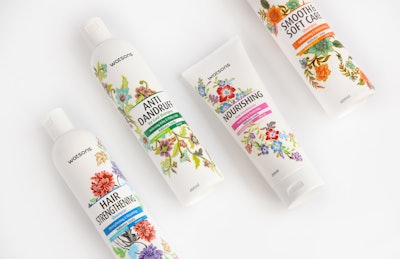 A new line of natural-ingredient halal shampoos targeted at the Muslim market in Southeast Asia summons sophistication, culture, nature, and beauty through packaging adorned with delicate floral artwork inspired by Indonesian batik art. The new haircare brand was launched by Watsons Personal Care Stores, the largest healthcare and beauty chain store in Asia, in Malaysia in October 2016 and the Philippines in August 2017, designed to appeal to younger consumers (18+) in particular.
The line includes three shampoos and one conditioner, packaged in stock bottles and in a tube, respectively. What differentiates the products from other haircare brands is its use of all-botanical ingredients, such as black seed oil and jasmine extract. While marketed as halal, the product's natural ingredients make it an attractive option for all consumers.
The graphic design for the haircare packaging was done by Brandimage China. Says Aaron Song, Account Director for the firm, "The client wanted the range to pop out on shelf using color as an appeal for younger consumers. Emphasizing art and culture, it needed to reinforce sophistication, while elevating beauty as an aspiration."
Inspiration for the design came from careful research on the Southeast Asian Muslim culture as well as input from one of the firm's creative colleagues from the region who was familiar with the batik style and how it could be used to appeal to a niche market.
The end result is a design with uniquely ownable visual elements. To convey natural beauty, Brandimage China created handcrafted illustrations of flowers made from dots, drops, and lines to suggest oil and floral extracts. The flowers and their leaves trail across a white background, with each of the four varieties having a different color scheme and artwork pattern. The center panel of the design is framed using variety-specific bars of color to focus the eye on the product information within. Says Song, "The colors provide subtle hints on each product's key functions. For instance, green is used for the Ice Cool Shampoo."
Together, the bottles create a family of design with a clear and strong product identity. Concludes Song, "With the bold visual solution balanced with culture and art, the design stands out against traditional competitors and brings beauty into the lives of consumers."
Companies in this article