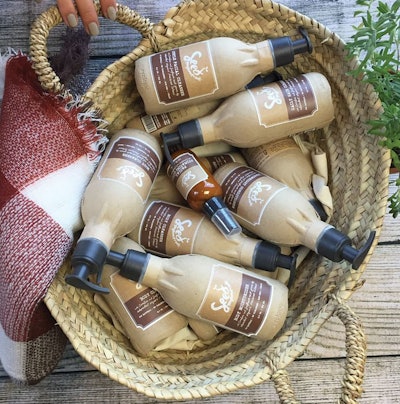 Let's take a look at what's happing in paper bottles. First up is a new brand from New York-based L'Oreal USA called Seed Phytonutrients. It debuts nationwide this Earth Day, April 22, and seven of the 16 varieties of health and beauty products in the line are in an 8.5-oz paper bottle from Ecologic Brands that
• is made from 100% recycled material
• can be recycled in the regular stream of paper recyclables
• can go into a commercial composting facility
Ecologic has made quite a name for itself with paper bottles used in a number of categories, including wine, cat litter, protein powders, and laundry detergent. In each case, the container has been essentially the same: an inner film polyethylene pouch inside a molded-pulp outer shell made from recycled corrugated and old newspapers that can be recycled up to seven times. Because the shells can be nested and the pouch can be transported flat to an end user, one truckload of the packaging materials equals nine truckloads of rigid plastic containers—or at least one day that will be the case. More on this in a moment.
Greatly impressed by these paper bottles—commercialized by the likes of Seventh Generation and Nestle Purina Cat Litter—the folks at L'Oreal wanted Ecologic to develop their own paper bottle in which a number of the products in the Seed Phytonutrients line could be packaged. "With this new brand we were pushing to a whole new standard of clean and natural and toxin-free," says Seed Phytonutrients' Vice President Brad Farrell. "There are plenty of beautiful and natural brands already out there, but they come in double-walled glass jars that are not so beautiful for the environment. So we wanted to take a stand by having the most sustainable packaging in the business."
What Farrell and colleagues discovered, however, was that Ecologic Brands wasn't terribly interested in picking up any new business. Why? Because according to Julie Corbett, Ecologic Founder and CEO, by the end of 2015 it was clear that the fundamental manufacturing methods underpinning Ecologic's business were flawed. Getting the pouch inside the molded pulp shell was a difficult thing to automate, whether the customers were doing it themselves on machines designed and supplied by Ecologic or Ecologic was doing it in-house and shipping out assembled bottles. Corbett explains: "Our goal had always been to develop the technology with an eye toward higher speed, better quality, and reduced cost of assembly. But because the glue had to be applied and because the shape of the pouch proved challenging, we never got beyond 12 bottles/min, and even at that speed it was not very automated."
Even more problematic is that the glue used to hold the two molded pulp shells together was causing the fiber to fail prematurely.
"We came to the realization that this bottle was not the future, that we were wasting time and money," says Corbett. "Radical steps were required if we wanted to become a viable company for the long term. We'd been focused too much on sales and not enough on process, quality, and operations."
What followed was a period where inquiries about new business were simply not answered, even when it was a division of L'Oreal that was inquiring. But eventually, says Corbett, the L'Oreal crowd prevailed.
"They practically stalked us," says Corbett. "Eventually they came to our facility in Manteca, California, and pitched us this new brand they were launching, and we could see it was a seismic shift in the way a new brand is put together. Controlling the supply chain, sourcing from local organic farmers, giving those farmers the financial backing they need, then making product that was really and truly natural from the seed all the way to the bottle. We came to understand why they really wanted our bottle, because it perfectly complemented everything they were trying to say with the product. Still we were reluctant, because at the time we hadn't completed the transition to our new method of bottle making. But they said they'd share the risk with us."
And so it was that, buoyed by the considerable resources that a company like L'Oreal has at its disposal, Ecologic brought the new bottle format into being. "It was about 18 months from beginning to end, and what a great, great partnership it was," says Corbett. "We now have a viable commercial product as opposed to a concept that proved, ultimately, to be operationally impractical."
No more pouch
The new and improved paper bottle says goodbye to the inner pouch made of flexible film. In its place is a very thin extrusion blow molded liner that is fully recyclable and is made of 80% post-consumer recycled (PCR) HDPE. Corbett sees this new inner component as a step toward greater sustainability because it's easier to incorporate PCR in a blow-molded part than it is with an extruded film. "Also," she adds, "the recycling stream for blow-molded containers is better established than for pouches."
Perhaps even more significant is the elimination of the side flange, thus the elimination of glue. Now in place are interlocking patterns to bind the two shells together, an approach that is far more robust and reliable, says Corbett. Also notable is the presence of a band of tape that goes around the neck of the bottle. This helps the interlocking tabs keep the two shells together. It also adds top-load strength and keeps the HDPE neck finish in a fixed position when the threaded closure is torqued on.
The third component to the package is a plastic dispensing pump, which is supplied by Aptar Group. As product is pumped out of the bottle, the blow-molded inner container collapses, which means that nearly 100% of the product gets evacuated.
The fourth and final part of the package is a pressure-sensitive label from Fort Dearborn Co. "That's who supplies the labels that go on the bottles Ecologic makes for Seventh Generation," notes Jennifer Woodworth, Associate VP of Operations at Seed Phytonutrients. "The label is paper, of course, to stay consistent with the composting and recycling objectives. But remember that a shampoo as well as a body cleanser are among the items in this bottle, so the label has to be able to withstand the torture test of the shower."
The bottle must also be shower-resistant. So a mineral extract that comes from clay is added to the pulp slurry prior to molding. In addition to giving the pulp enough water resistance to last in a shower environment for the life of the product, it acts as a natural anti-microbial agent, too. "You may begin to see early signs of deterioration towards the very end of use," says Woodworth. "But keeping it waterproof forever is not the goal. We just want it to remain functional in the shower during its useful life."
Technically one could say there is a fifth component to this package, as a packet of seeds is inserted between the inner HDPE container and the pulp sidewall of the bottle. "It all goes back to the inspiration behind the launch itself," says Farrell. "How do we take something out of the earth, like a seed, but then have our product in the end give a seed back to the earth in packaging that's compostable, as well."
Corbett confirms that the bottle has passed the ASTM 6868 composting standard. In regions where commercial composting facilities are scarce or don't exist at all, the HDPE inner component can be separated from the molded pulp material and each can go into its own recycle stream. Copy on the back label includes the following instructions: "Once empty split the bottle open and discover our heirloom seed packet inside. FUN FACT! This paper bottle uses 100% recycled material and is recyclable, and yes, this eco-friendly bottle is safe to take in the shower."
Closed loop
Especially notable is how the raw material for the bottle is sourced. Ecologic is making the paper shells from paper and corrugated waste that includes waste from a L'Oreal distribution center in Valencia, CA, about 300 miles from Ecologic's plant in Manteca. So the Seed Phytonutrients container has a closed-loop quality to it.
"We're super excited about this aspect of the bottle," says Farrell. "We weren't sure at first if it would be the right paper, but it tested out fine and now we're going to make this a part of our sourcing going forward."
Currently Ecologic is fully assembling the paper bottles for the Seed Phytonutrient line and shipping them to the contract manufacturer that fills them. "We have invested heavily in both capital and time to develop proprietary, high-speed, and fully automated machinery that integrates the liner into the two shells at high speeds," says Corbett. The long-term goal, according to both Corbett and Farrell, is to have such equipment be available for installation in customer plants. When that happens is when a key part of this bottle-making technology's potential can be realized, because that's when Ecologic can begin sending its customers nested shells rather than fully assembled bottles. The inner component that is extrusion blown of HDPE also collapses, so it, too, can be shipped in a manner that is optimally efficient.
As for application of closures, Corbett says it is part of Ecologic's intellectual property. "The liner is engaged or connected to the two pulp shells through interlocking features that act as an anti-rotation bond. This secures the liner to the shells so that the whole acts as one part going through a capper. Bottles are designed for torque and top loads similar to what's found in a plastic bottle. The bottom line is that the eco.bottle® runs through a standard capper with no need for extra tooling or change parts."
The price of an exfoliating hand wash is $20 on the low end of the items that come in the paper bottle, while a gentle facial cleanser sells for $38. Go to pwgo.to/3453 to learn more about product and package, including this claim from Seed Phytonutrients: "We craft natural-origin hair, face, and body care products in the first ever shower-friendly post-consumer recycled paper bottle."
Carton stock and vending machine approach
In Menlo Park, CA, about 80 miles east of Ecologic's Manteca headquarters, sits the office of the other paper bottle pioneer we'll look at in this story. It's a startup water marketer called Drop Water whose empty 15-oz paper bottles are shipped in nested "towers" to a custom-built vending machine that picks one bottle at a time, removes the threaded cap, fills the bottle, re-applies the cap, tucks closed the bottom flap, and dispenses the bottle to the consumer.
Like the Ecologic bottle, this one also has an inner plastic component that holds the water. But unlike the molded pulp body from Ecologic, the Drop Water body is an FSC-certified 18-pt SUS (Solid Unbleached Sulfate). And rather than having a pressure-sensitive label, the Drop Water bottle features printing done directly on the paperboard; in keeping with the sustainability theme, soy inks are used.
The paperboard body is produced in a nearby paper mill in a manner similar to any ordinary carton: sheet-fed carton stock printed on an offset press is die-cut and sent through a folder/gluer out of which knocked-down blanks emerge. In a second step, operators at Drop Water's facility insert the inner bag component—which is made offsite—into the carton blank. This inner bag component consists of a flexible film bag attached to an injection-molded shoulder plus threaded cap. Once this shoulder/cap/bag piece is in place, the previously flat knocked-down blank takes on a slightly squared-off and cone-like shape, which makes it possible to nest one container into another. For now the insertion of the shoulder/cap/bag is done by hand, but it will be automated in the future, says Scott Edwards, Drop Water Founder and CEO. The injection-molded part, it's worth noting, fits into the paperboard cone snugly and securely with no need for adhesive.
Both the injection-molded shoulder and cap as well as the blown-film inner bag are compostable in a commercial composting facility because they're made from one of the BASF range of products called ecoflex®, which are certified as compostable. Edwards says that one of the more challenging technical hurdles was figuring out how to attach the bag to the injection-molded shoulder. It isn't done by heat sealing or by application of an adhesive. "It took many years to figure it out, and we're still patent pending, so we'd rather not identify it right now," says Edwards.
The real differentiator
Where Drop Water differs most profoundly not only from the Ecologic Brands paper bottle but from any beverage bottle in the world is that it's not designed for traditional retail channels. In fact, the only place a consumer can purchase a Drop Water bottle is from one of the firm's highly customized vending machines, because it's the vending machine that picks a bottle from its nested tower, removes the threaded cap, fills the inner pouch (these lie collapsed against the paper sidewall so that the cone-shaped bottles are able to nest), returns the cap, tucks the bottom closed, and dispenses the bottle to the consumer.
Needless to say this vending machine, which includes robotics inside and takes about 10 seconds to produce a bottle of water, is no garden variety vending machine. "It was designed entirely in-house by our team," says Edwards. "Their background revolves around engineering, robotics, electronics, and packaging. We also have the good fortune to be located near San Jose, where advanced manufacturing shops are turning out things like the Tesla super charging station and all kinds of sophisticated devices used in the medical industry. These highly skilled manufacturing firms served as our contract manufacturers until we got our designs perfectly dialed in. But it was our in-house team that was really behind all the R&D, from the embedded software to the robotics. We built the whole vending machine from scratch in a garage."
Just don't ask where the coins go in this particular vending machine. "We only accept modern forms of payment," says Edwards. "Apple Pay, credit card, debit card, or our mobile app. The mobile app is very promising because it permits us to see a buying pattern, and if you share the app with a friend we offer a free drink, which allows for viral growth."
For 15 oz of water the consumer pays anywhere from $1.50 to $4.80. "It depends entirely on where the machine is located," says Edwards, who adds that this is premium water. "We filter the water on site in the machine just seconds before it enters the bottle, so there's no chance for leaching or migration or any of the other things that people sometime wonder about where bottled water quality is concerned."
And where do the vending machines get installed? That's where Survey Studio comes in, the firm that helped Red Box, Coin Star, and Eco ATM know where to put their systems.
As for the life cycle of this paper bottle, "That depends entirely on where the consumer is at," says Edwards. "If it's an area where composting is common, the bottle will say 'compost this bottle.' In a place that doesn't have composting, the bottle will say 'Recycle this bottle.'"
Copy on the back of the bottles currently being sold on a limited basis in the San Francisco area say this on the back panel: "Drink Different. Drop Water Co is committed to reducing waste and promoting sustainable products. This container is the first 100% compostable bottle of its kind."
Edwards also hastens to add that the experience of buying water in this fashion is meant to be fun and enjoyable. "It's not like buying a bottle from the 7-Eleven or a news stand at the airport," he points out. "We want it to be fundamentally different than other beverage options. The idea here is to capture the imagination of people and have them say, 'Wow, I can choose the flavor I want in my water, and I can dial in how many milligrams of caffeine I want. I can even choose the temperature.'"
Also on the back panel is this statement: "We have developed an entirely new way to make drinks which reduces the amount of weight shipped by 98% and enables the use of eco-friendly materials." This reduction in weight shipped is really the genius of the Drop Water concept. According to Edwards, 1,000 filled PET bottles weigh more than half a ton, while 1,000 nested paper bottles weigh about 60 lb. So this game-changing concept is about much more than developing packaging that isn't harmful to the environment. The company is on a mission to displace the industries that are transporting water long distances to get it to the consumer.
"If humanity wants to have a positive future for centuries to come, one step in the right direction would be to stop using PET bottles to transport water from state to state or across the world from Fiji," says Edwards. "Let's switch to something local, put it in a package that is sustainable, and not transport it at all. Not that this particular package format is the end solution. In five or ten years there could be something better, maybe something sourced from algae."
The evolution of these two paper bottles—neither of which, at this point, is necessarily guaranteed widespread success in the marketplace—promises to be one of the most intriguing things to keep an eye on in the packaging arena over the next few years.
Companies in this article