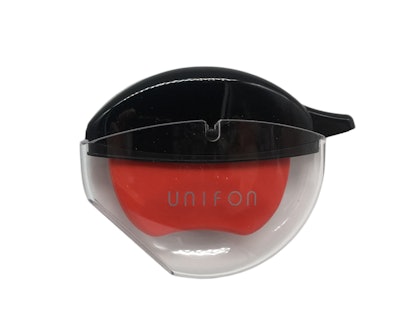 According to data and analytics company GlobalData, the convenience trend is driving the consumer packaged goods sector across the globe. Busy urban dwellers are increasingly looking for products in packages that suit their time-poor lifestyles. To cater to this set of consumers, Yujiahui Co., Ltd has launched Unifon Kiss U CC lipstick in a new packaging design in China.
In GlobalData's Q3 2016 consumer survey, it found that just under two-thirds of Chinese women rely heavily on time-saving products and services. The percentage is even higher for younger women with 74% of Chinese women, aged 18 to 34, depending on these time-savers.
Unlike conventional lipsticks, which are available in tube shape, Unifon Kiss U CC lipstick comes in a disc-shaped plastic applicator. Lipstick is contained on both the top and bottom of the applicator, which is contoured to match the curvature of the lips so that it imparts a "kiss-like feel" when applied by "kissing" the applicator.
Says Tom Vierhile, Innovation Insights Director at GlobalData, "Not everyone loves the venerable lipstick tube, which (among other issues) requires some dexterity to use. Successful application also necessitates a mirror to double-check if lipstick has been applied properly. Unifon Kiss U CC lipstick avoids some of these issues while being faster and easier to apply than lipstick from a tube."
The lipstick, which is available in three shades—Sunset Orange, Sweet Peach, and Vigour—is sold in a 6.5-g paperboard box and retails for CNY49.90 (approximately US$8).