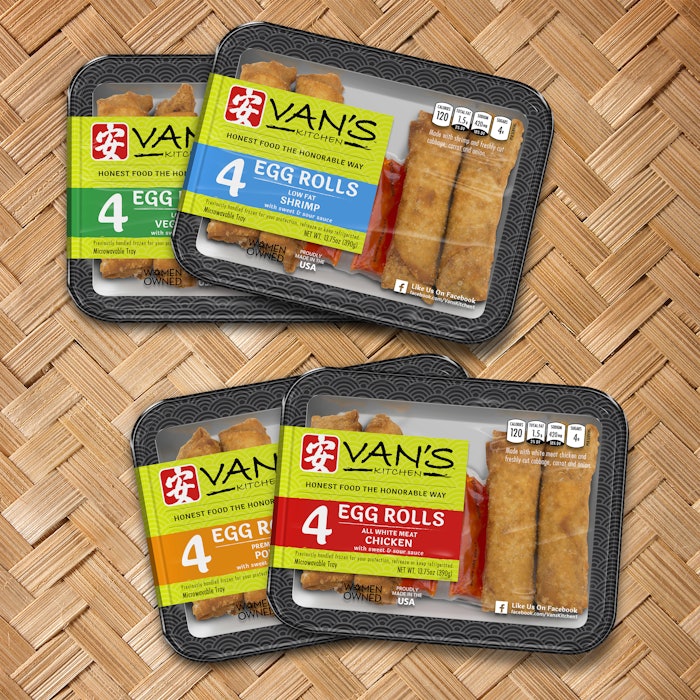 Van's Kitchen, a Dallas-based, family-owned producer of fresh, refrigerated egg rolls, provides a perfect example of how lackluster packaging coupled with a price point below the product's worth can result in sluggish sales. It also provides an ideal illustration of how addressing those issues can significantly improve a brand's business.
Van's has been offering its line of egg rolls, now available in chicken, shrimp, pork and vegetable varieties, since 1986. Despite the company's commitment to providing "high-quality, affordable, authentic, and delicious food choices," consumers had misconceptions about the quality of the brand due to its generic and dated packaging and low price point. Together these drawbacks resulted in 18 months of stagnant sales for the brand.
In 2015, Van's approached Sealed Air, its packaging partner for 23 years, to upgrade the look of their packaging to be more eye catching and modern. In response, the team at Sealed Air's Food Care division developed multiple options that reflected the quality of the product inside. The designs were then handed over to Sealed Air's market research team, which performed a graphics study.
Explains Chad Cown, Senior Marketing Analyst for Sealed Air, "Focus groups were conducted initially testing several new package designs. The focus groups shopped a mock refrigerated retail case and determined package designs with the highest visual appeal and purchase intent. They then elaborated on their opinions during 90-minute focus group sessions."
Among the insights gleaned from the groups was that they were happy with the existing package structure—a tray with film overwrap. Other feedback indicated that consumers valued a design that offered more product visibility, because it allowed them to see more of the fresh product inside. In addition, they appreciated having nutritional information displayed on the front of the package, so they could quickly determine the product's worth.
Guided by consumer preference, Sealed Air then brought two label options to Van's, along with their findings from the focus groups. Van's elected to update its packaging graphics with a design that featured more contemporary artwork and prominently placed nutritional information. Now, instead of a belly band around the tray with mostly black-and-white graphics, including blocky type reading, "Egg Rolls," and the variety type, with the Van's logo buried at the bottom, the new graphics use a label that is flush left and uses a neon-green background, color blocks for each variety, and the Van's logo prominently displayed across the top.
The package refresh was then coupled with another change. According to Cown, "The consumer focus groups were the first to give the indication that this product may be priced too low for the quality of product Van's was producing." From that information, Sealed Air performed an online price elasticity study with 260 consumers and determined that consumers were willing to pay more for the products. Consequently, Van's Kitchen raised the price of its egg roll products with the launch of the new packaging in January 2016.
Van's didn't have long to wait to learn the effect of the changes: Within six months, the company experienced a 5% increase in its egg roll sales. Since then, that figure has risen to 11%. Van's was also able to expand its distribution, with its products now sold in 4,500 retail locations nationwide.
Companies in this article