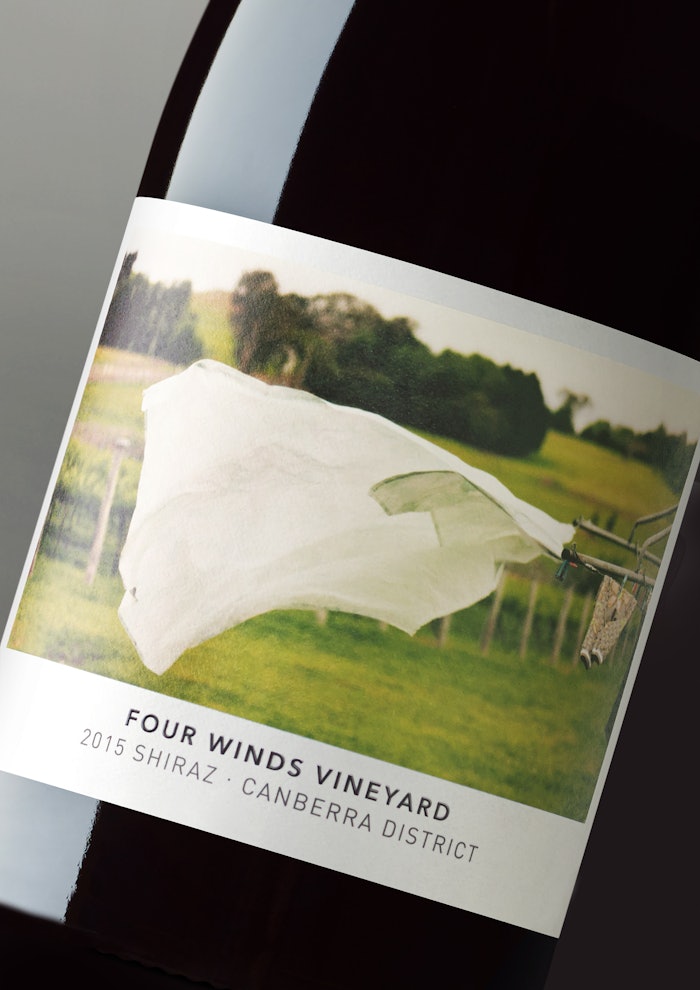 Sheets fluttering on a clothesline, the seeds of a dandelion scattering in the wind, and a pinwheel spinning in the breeze: These are the evocative images that make up the new bottle labels for Australia-based, family-owned winery Four Winds Vineyard. The labels, simple in design and using photographs taken by Four Winds Vineyard Business Manager Sarah Collingwood, were created by Denomination Design to create a memorable visual expression of the Four Winds' brand name.
Four Winds Vineyard uses progressive ideas in management and sustainability to produce its six wine varieties. Its contemporary new Cellar Door wine tasting room is built primarily from recycled materials found on or near the property. The tasting room features creative light displays, made from old barrel staves and Collingwood's screen-printed artwork.
In late 2015, the majority of its wine was sold though the Cellar Door and to small local restaurants. Seeking to expand its distribution in the Sydney market, Four Winds contacted Denomination.
"One of the main challenges for small vineyards such as Four Winds is that their marketing budgets are very small, and so they rely heavily on packaging design to create desirability and memorability," explains Denomination CEO Rowena Curlewis. "The former packaging for Four Winds used a plain, classic-style label featuring four swirls. Unfortunately, it was quite forgettable and had a significant lack of shelf standout. The swirls gave an 80's feel to the label, and this was at odds with the contemporary personality of the Cellar Door through which many of the brand's sales were derived. Additionally, feedback from the desired retailer was that the packaging was a roadblock to selling this brand in the lucrative Sydney on-premise market."
The strategic thought behind the redesign was to bring to life the name Four Winds in a visual sense. Therefore, the resulting concepts all focused on various aspects of wind. In addition, given the generational family ownership of the business—Four Winds is run by Collingwood and her sister, along with their husbands and parents—Denomination felt it was important to position Four Winds as a true family operation. Using Collingwood's photographs was an intrinsic part of that strategy.
On the new label, the winery photos are the hero, while the rest of the label is deliberately pared back and very simple in structure. Using a combination of Avenir Next Demi Bold and DIN Regular fonts, the Four Winds Vineyard typography is a clean and almost utilitarian in style, which Curlewis says complements the interior styling of the Cellar Door.
The first wines with the new labels were launched in 2016, and by 2017 almost all of six of the wine varieties had changed over to the new packaging design. According to Curlewis, Four Winds is "beyond delighted" with the redesign.
Says Collingwood, "As a family business, there was some discussion about whether the labels needed changing, but the feedback we have received since releasing the new labels has affirmed it was the right decision. The new packaging captures the vibe of the business and, most importantly, looks good on the table surrounded by friends and family. In the 18 months since the rebrand, we have experienced a 47.5-percent increase in sales revenue, an increase of 245 percent in Cellar Door visitors, and an increase of wholesale listings by 246 percent. We have been overwhelmed by the response to the new label design."