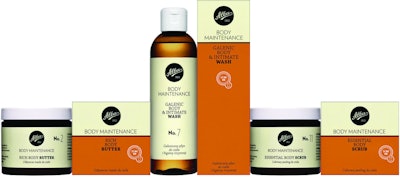 A company with a philosophy of "blending modern science with traditional wisdom," according to its CEO Lukasz Rychlicki, 100-plus-year-old, family-owned skincare company Alba1913 of Suchy Las, Poland, has added electronic Near Field Communication tags to its product cartons.
Alba1913 approached NFC supplier Talkin' Things in early 2015 to explore how the technology could be used both for its own, as well as its customers' benefit. "Our idea was to understand where, how often, and by how many users products are scanned," says Rychlicki. "In addition, we envisioned the opportunity to set expiry date alerts and for our customers to access additional content through our mobile app."
Ranging in price from $16 to $74 (in the U.S.), Alba1913's natural skin and body-care products have just been recently relaunched, reverting back to the legacy of the traditional products and herbal remedies produced by the company back in the 1920s to 1940s. "Our products are inspired by these old formulations and blend modern science with herbal, monastic traditions," Rychlicki says.
Alba1913's products are sold in markets around the world. In 2015, as the company got ready to expand its brand into Asia, it also viewed NFC as the best technology to deter counterfeiting.
NFC technology, part of the RFID family, enables contactless communication between devices like smartphones or tablets. The radio-frequency tags can be programmed and encrypted with a security system so that each one is unique, making them ideal for brand protection. Talkin' Things says it offers the first smart packaging system to integrate both iPhone and Android users. While NFC has been available with Android devices since 2007, it was not until September of 2017, with the introduction of the iPhone 7, that it was offered with iPhone.
As Talkin' Things CEO Marcin Pilarz explains, the Talkin' Things' end-to-end solution includes custom-made tags, technology for integrating the tags with the brand owner's labels and packaging, the software solutions—including a backend, mobile or web app, and a Data Management Dashboard—and the hardware solution, such as RFID antennas.
One feature unique to Talkin' Things' system is its patented Proof of Purchase solution, which signals when a consumer has opened a package. "With NFC two-stage communication, a consumer may scan a package within the store and visit a web app, letting the brand owner know a consumer is interested," says Pilarz. "The second stage is when a consumer purchases and opens the product. At this stage, they interact with the smartphone mobile app, showing another level of interest. But only Talkin' Things NFC technology can confirm a proof of purchase, allowing brands to offer loyalty programs only to real consumers of the product."
For the Alba1913 application, the tags, encoded by Talkin' Things, are applied inside the secondary carton. On the front of the carton, copy reads "Scan Me," as a call to action to consumers. As long as consumers are in close proximity to the package, the NFC tag will automatically communicate with their smartphone, opening the mobile app within one to three seconds.
Currently, the Alba1913 NFC tag allows consumers to confirm product originality as well as access product videos, product information, and the company's online store. Information is displayed in the local language: English, Polish, or Japanese.
For marketing purposes, Alba1913 can use the Talkin' Things custom Data Management Dashboard to monitor scans. Says Rychlicki, "The scanning will give us an idea where products are traveling and helps us define the correct assortment for each geography, choose brick-and-mortar locations, choose hero products, and explore consumer behaviors and hence better marketing efforts.
"NFC allows us to track each product separately and give a unique product experience to the consumer, such as set reorder or expiry date alerts, create personalized loyalty programs, and receive unique content. The opportunities are vast, as long as consumers adopt the technology."
While at present Alba1913 uses a tag only on the carton, Rychlicki reveals that the company is currently discussing the use of NFC tamper tags on primary packaging, incorporated into the labels. "The tamper tags will protect the product against refilling and record the seal breakage, and will contain a proof of purchase feature at the same time," he says.
Alba1913 added the tags to its secondary packaging in 2016, and so far, Rychlicki says it has not noticed any breach of its brand protection. As for its marketing impact, he says the company needs to collect more customer data before making a reliable analysis. The NFC solution is currently employed by Alba1913 in Asia and Europe; a U.S.-wide introduction is planned for next year.
Companies in this article