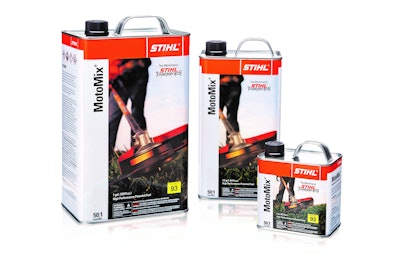 There's never been a product category that couldn't benefit from packaging innovation. For hand-held power equipment maker Stihl, breaking free from the ubiquitous cylindrical can for premixed gas helped its MotoMix product stand out on shelf.

Stihl's MotoMix is a premixed gas product for chainsaws, leaf blowers, and hedge trimmers that offers a differentiated formula: a patented 50:1 fuel mixture that combines non-ethanol, high-octane fuel and premium Stihl HP Ultra oil. Although the product was distinctive, its packaging was not. Virtually every quart-sized premixed brand on the market uses a cylindrical can; MotoMix was no exception. Stihl needed a new angle—literally.

In spring 2015, the company approached Berlin Packaging about creating the first square quart-sized container on the premixed gas market. According to Berlin Senior Packaging Consultant Nick Wilkins, although Berlin knew the unique shape of the container would attract attention, it also knew achieving a workable package would be a challenge.

Among the considerations, the pour nozzle had to be attached in such a way that it would meet government regulations requiring drop tests for hazardous materials. Because the nozzle is typically a weak point in such a package, the container had to be designed to withstand heat, cold, and drops on hard surfaces. To solve the nozzle constraint, Berlin and Stihl came up with the idea of attaching it not with a typical soldered joint, but with a laser weld that is stronger and eliminates markings. Notes Wilkins, specific machines were created to laser-weld the nozzle to the tin can.

Another functional improvement was the positioning of the carry handle long ways on the top of the can, rather than in the more traditional, transverse position. "The long-ways handle lets users carry the package easily, like a briefcase, and assists in more controlled pours," Wilkins explains.

Once the design of the can was finalized, Berlin calculated the optimal dimensions for the package, creating the vapor space necessary to ensure an accurate fill amount and eliminate the risk of expansion or explosion. Previously Stihl had offered a 1-gal size of MotoMix in a square can with a transverse handle. With the development of the square quart size, Stihl switched its 1-gal size to the new container design, and also added a 0.5-gal size, giving consumers another option.

To add to the greater shelf presence of the new package, Stihl took advantage of the billboard space offered by the square container and created new graphics that also brought uniformity to the line.

The new package launched on shelves in fall 2016 and has received positive consumer feedback.
Companies in this article