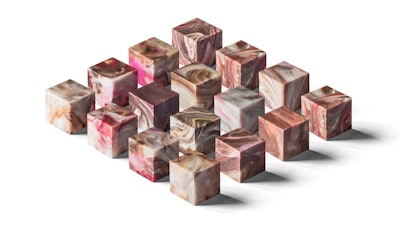 Fitzroy Amsterdam has taken an entirely new approach to reusing beach plastics for packaging. Its strategy, "From waste to wasted," involves collecting plastic Coca-Cola bottle labels from the beaches of the Dutch North Sea Islands, melting them, and forming them into caps for its new Fitzroy Premium Navy Rum. Through this process, the caps take on a gorgeous, marble-like appearance, with each cap having a unique design.
Fitzroy Amsterdam is a creative agency that branched out into spirits after it saw a lack of environmentally conscious packaging in the category. "As an ad agency, we previously worked for big brands like Bacardi, Jack Daniels, and Heineken, so we got to know the market for hard liquors quite well," says Fitzroy co-owner Jur Baart. "We were always wondering why there were no brands or products addressing environmental issues. Our main goal was to raise awareness and invite people to join in this modest form of 'activism.'"
Baart explains that Fitzroy collects the plastic that washes up on the Wadden islands in the Netherlands. They then clean the plastic waste, after which they heat it with an iron press. When the temperature is right, the waste is pressed into a small, square mold and allowed to cool. "It's actually not a complex process, but it does require a certain amount of attention and care," he says.
The marble appearance of the cap is the result of what happens organically when plastic with a variety of colors is melted and pressed together, Baart explains. "We think this is a special part of this handcrafted bottle cap, using something artificial like plastic waste to recreate the natural look of marble," he says.
The bottles are made from recycled glass from the same waterways—resulting in what Fitzroy says is the "world's first sustainable liquor packaging." To encourage consumers to keep the bottle for use as a water carafe, Fitzroy has left the bottle clear of branding, instead designing an outer wrapper that tells the story of the bottle and the rum.
"There are five different wrappers, each with a different message highlighting the pollution of our seas," says Baart. "On these wrappers, we address issues such as ailing fish, with 'The fed up whale,' the destruction of our deep-sea treasures, with 'Treasure & trouble,' and, of course, that mermaids are getting fatter, with 'I want more-maid.'"
Lest you think the craftsmanship is all in the bottle, Fitzroy also filled the package with a premium rum—the so-called 'navy style'—which offers a smooth but heavy flavor that Baart says "gives us a little nip of the bravery and willingness of the men of the past."
The name Fitzroy refers to the agency's own nautical heritage. The firm is located in an old sailor school and takes its name from the captain of the Beagle, Robert FitzRoy, who steered Charles Darwin on his journeys of discovery.
Fitzroy Premium Navy Rum, with its one-of-a-kind recycled label-based caps, was introduced in April 2017 and is sold online and by Dutch wine retailer Chabrol Wines. Baart says that Fitzroy is also working with distributors worldwide "to make Fitzroy Navy Rum accessible to everyone."