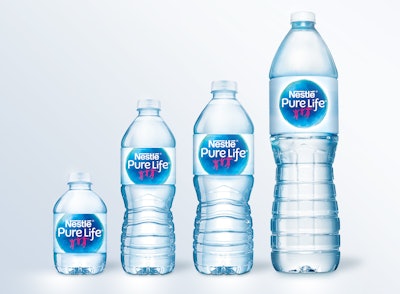 Bottled water brand Nestlé Pure Life has refreshed its product through a new global advertising campaign and new packaging. The new tagline is, "Pure Life Begins Now," which helps achieve Nestlé Pure Life's purpose, "to inspire a healthier and brighter future that starts with pure quality water."
Says Nestlé Pure Life, the needs of today's consumers are evolving; they are shopping the brands that fit into their lifestyle. They're looking for quality, a consistent taste, convenience, and brands they can count on.
Nestlé Pure Life offers a range of bottle formats and sizes to suit a variety of moments throughout the day. The brand offers a convenient, portable way to access water throughout the day and while on-the-go.
Nestlé Pure Life's new packaging includes:
A new watercolor image to magnify Nestlé Pure Life's message that the future is filled with possibilities.
A new logo featuring a watercolor image that blends blues, greens, and aquamarines to emphasize the role water has in our lives.
A new stylized "family within" logo that represents the fact that Nestlé Pure Life has always been a family-centric brand and wants to recognize the family as a reflection of future generations.
Sustainability: Nestlé Pure Life bottles can be recycled. According to the company, it is dedicated to continuously improving its operations to increase efficiency, reduce waste, and reuse materials wherever possible.
Companies in this article