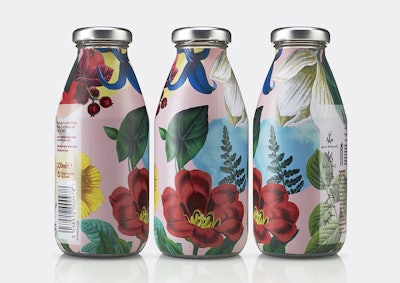 U.K. company Firefly Drinks has taken a bold step with the package design for its new Superfly juice drink: a logo-less bottle that lets beautiful botanical illustrations tell the product story. Since 2003, Firefly has been concocting revitalizing juice drinks boosted with botanicals for the retail market. Its packaging is well known for its iconic glass bottle shape and black-and-white labels.
In 2016, Firefly partnered with renowned mixologist Ryan Chetiyawardana, aka Mr. Lyan, to develop a soft drink with an adult taste profile. "Mr. Lyan was the perfect collaborator, due to an interest and use of botanicals that matches Firefly's own," says Shaun Bowen, Creative Director of B&B Studio. B&B developed the artwork for the new beverage after the recipe was finalized In October 2016.
"The drink was designed with the on-trade environment [restaurants, bars, etc.] in mind, which was a new starting point for Firefly" explains Bowen. "As such, the brief was to create something that would stand out in a bar environment, and create intrigue and desire. The design needed to be delicious and feel relevant for both Firefly and Mr. Lyan, without one brand dominating the other. We achieved this by telling the modern botanicals story—the perfect link between the two brands—and placing branding on the back of the bottle."
The flower illustrations were inspired by those found in vintage botanical books from the 18th and 19th centuries and were modernized through a bold and contemporary color palette. Beverage ingredients are presented on the back of the bottle as line drawings done by Mr. Lyan of wormwood, kola nut, green coffee, angelica, and cascara.
Bowen says B&B presented the design concept of the no-logo bottle to Firefly with the expectation that some normalization would take place during the design development. "To our delight, Firefly bought into the concept in its original execution, understanding that the intrigue of the unbranded bottle was more important in the on-trade environment than the reassurances of a logo—especially as Firefly is known more as an off-trade [retail] soft drink," he says.
The 330-mL glass bottle is covered with a full-body PET shrink sleeve that is UV-flexo reverse-printed in eight colors, including a surface-printed matte varnish, supplied by Berkshire Labels.
Says Firefly Drinks Head of Marketing Sarah Brooks, "The bold way that B&B chose to tie up our brand with Mr. Lyan's fired our imaginations. It will serve to create mystery around the brand and spark conversations. It's great to have a design that people will be talking about and that expresses the natural qualities of our product so clearly and quickly."
Superfly was first rolled out in Selfridges and in Mr. Lyan's bars in April 2017, and was then introduced to the rest of the trade in May 2017. The price per bottle is approximately $2.23.
Companies in this article