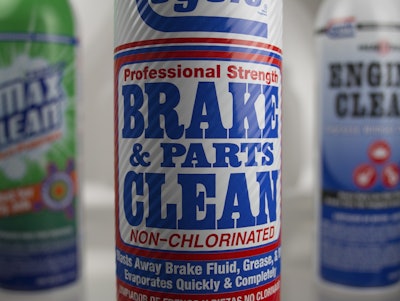 Professional-grade automotive care products company Cyclo Industries is helping consumers "Get a Grip With Cyclo," introducing the first aerosol can in the U.S. to feature spiral debossing. The diagonal, embossed lines on the can add visual interest on shelf, while providing greater gripping functionality for mechanics using Cyclo's slippery lubricants and cleaners.
Says Marketing Manager Laura Schreiber, Cyclo learned of the new decorating technology from can supplier DS Containers (DSC). "The design was first created by their parent company in Japan, and they just started offering the design in the U.S. They approached us because they know Cyclo is known for innovation," she says. "We are always looking for new ideas, since our industry hasn't had much innovation other than the DSC can and the various bending straws on lubricant products."
During the aerosol can manufacturing process, DSC adds the spiral debossing during shaping before the cans are printed. When Cyclo switched to the debossed can, it retained its existing package artwork. As Schreiber explains, after looking at samples of the debossed cans early in the process, Cyclo decided the embossing didn't have any negative impact on the graphics. "We were happy that all the graphics were as crisp and legible as before, as Cyclo is known for its bright and colorful packaging," she says.
The spiral debossed cans launched in May 2017 through Cyclo's distributors for several products, including its most popular, Break Away loosing lubricant and its original Brake & Parts Clean. According to Schreiber, feedback has been "amazing." She adds, "Our end users really like how it feels in their hands, and our distributors like how it stands out in a very crowded field of aftermarket specialty products."
Companies in this article