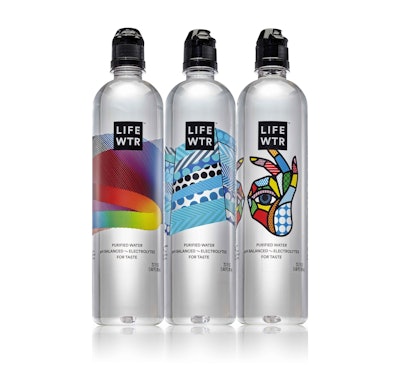 PepsiCo has introduced a premium bottled water brand featuring packaging that is more central to the brand than the product itself. LIFEWTR, a purified water pH-balanced with electrolytes, is packaged in a sleek PET bottle in two sizes decorated with labels that feature the work of emerging artists involved in mediums such as graphic design, street art, and photography.
"We believe the biggest equity of this brand is the label," says Seth Kaufman, Chief Marketing Officer of PepsiCo North America Beverages. "LIFEWTR has a beautiful piece of art on it. We think it will connect with consumers in a more inspirational way."
For LIFEWTR's launch, PepsiCo selected artwork from three artists: large-scale painter Jason Woodside, mural artists Memo, and transatlantic duo Craig Redman and Karl Maier (Craig & Karl). New label designs in sets of three are expected to be launched quarterly, with some using existing artwork scaled to fit the label template, and others featuring art created specifically for the series.
The exclusive supplier of the labels for LIFEWTR is Constantia Flexibles, which worked with PepsiCo to create a clear, pressure-sensitive biaxially-oriented polypropylene label that brings the artwork to life. As Constantia Flexibles National Account Manager Ryan Zarbaugh explains, Constantia uses a 12-color RCS combination rotary screen and flexo press from Gallus to bring the texture of the art to the forefront. He notes that because the bottle and label are clear, the artwork can be seen from both the front and back.
During selection of the label, Zarbaugh says that PepsiCo was also interested in using material that offered sustainability benefits. To address this, Constantia chose Avery Dennison's recyclable CleanFlake label technology, which uses a water-based, recyclable adhesive that enables the label to cleanly separate from the bottle during the PET recycling process. This ensures the LIFEWTR bottle is fully recyclable. Constantia uses two BOPP label thicknesses, 1.6-mil and 2.0-mil, for LIFEWTR's 700-mL and 1-L bottle sizes, respectively.
The quality of the label cannot be understated, as the artwork is fundamental to the brand. "Our LIFEWTR artists will turn the traditional bottle label into a unique masterpiece that speaks to the creativity—and source of creation—linked to the brand's core," says Brad Jakeman, President of PepsiCo's Global Beverage Group. "The brand's purpose is to help emerging artists make it and get into pop culture."
By using the Shazam app, consumers can learn more about individual artists in each series. PepsiCo hopes the label will play strongly in today's social media-driven culture and, as its tagline—Life. Water. Inspiration.—suggests, anticipates it will connect with consumers in an inspirational way.
Companies in this article