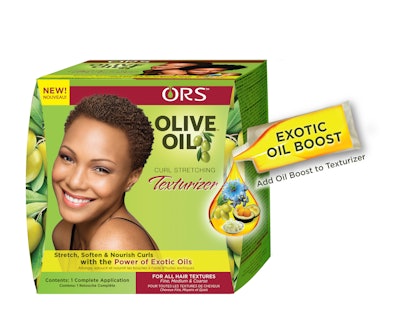 Two new ethnic hair-care products from Namaste Laboratories—ORS Olive Oil Zone Relaxer and ORS Olive Oil Curl Stretching Texturizer—hit the shelves in 2016 in secondary cartons with rounded edges that add a fashion-forward flair to the brands.
Namaste's ORS Olive Oil Zone Relaxer is the first targeted, small-section relaxer and offers the smallest pack size on the market. A typical relaxer kit includes a crème relaxer base in a polypropylene jar, a liquid relaxer activator in a high-density polyethylene bottle, shampoo and conditioner in HDPE bottles or foil packets, plastic gloves, a wooden spatula, and an instruction sheet. In the ORS mini application kit, all of the liquids/crèmes are packaged in multilayer foil packets and are held, along with the spatula, gloves, and instructions, in a trapezoid carton.
"The goal," says Nicole Ray Robinson, Category Head – ORS Olive Oil Relaxers, Maintenance & Hairdress for Namaste, "was to create a first-to-market, space-saving kit that also drew consumers to the store shelf."
The ORS Olive Oil Curl Stretching Texturizer stretches short to medium-length curly hair for looser curls. Namaste's texturizer includes a Mix-it-Yourself boost of four exotic oils in a multilayer foil packet. Other components include a crème relaxer base in a PP jar, shampoo, conditioner, and styling gel products in multilayer foil packets, a pair of plastic gloves, a spatula, and an instruction sheet. All are housed in a unique carton with concave front edges decorated with an olive plant motif.
"This carton was created to stand out on the shelf from a sea of competitors," explains Robinson. "We used what most would call dead space—the corners of the box—to reinforce the Olive Oil brand. The beautiful olives on the corners of the carton not only differentiate us from the competition but also excite the consumer."
Both cartons are a 20-pt recycled Clay Coated News Back material, offset-printed in four-color process plus an aqueous coating by a proprietary supplier. Namaste designed the carton graphics in-house, retaining the green background color, logo, and font style from its other products.
"We took more design liberties elsewhere to ensure the creation of something truly unique," Robinson adds. "One of the most unique features of the graphic design [for the relaxer] is the amazing ZONE logo. It totally embodies the style of the package design and its consumer. Clean, modern, sans serif fonts paired with the graphic element of the three 'zone' targets makes this logo stand out as well as visually communicate the meaning of the product name."
ORS Olive Oil Zone Relaxer was introduced in September 2016, and ORS Olive Oil Curl Stretching Texturizer was launched in August 2016. Both are sold in Sally Beauty Supply, CVS, Rite Aid, and Meijer, and in beauty and barber supply stores nationwide.