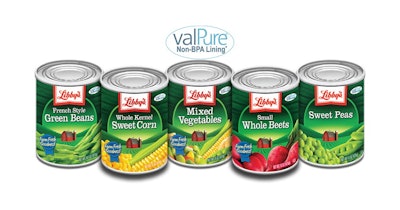 Fruit and vegetable processing company Seneca Foods Corporation has partnered with The Valspar Corporation, adding their valPure® logo to many of its canned vegetable labels.valPure,Valspar's brand of non-BPA can-lining technologies, provides protection for food while addressing consumers' desire to avoid materials of concern. ThevalPure lining has been evaluated usingSafety by Design, a process modeled on pharmaceutical development, ensuring a safe and sustainable solution. As the first major canned vegetable processor to switch to BPA non-intent linings, Seneca has updated its labels to provide greater transparency of the materials used in place of BPA.
"Our consumers want labels that inform them of the composition and safety of this alternative can lining," says Bruce Wolcott, Vice President of Marketing for Seneca Foods. "Our top priority is to provide the highest-quality, most nutritious foods that our consumers can trust."
With this development, Seneca has now transitioned many of its canned vegetables under the popular Libby's brand tovalPurelinings.
Says Sam Shoemaker, Senior Vice President Global Packaging of Valspar, "With infinite recyclability and efficient manufacturing, metal cans offer a safe and sustainable option for food packaging. We are proud to partner with Seneca Foods on the launch of their Libby's label designatingvalPure lining."
Companies in this article