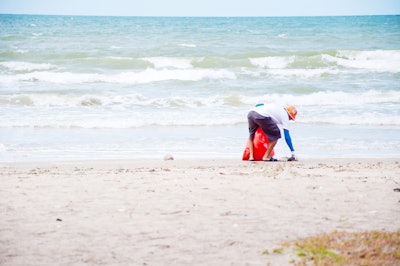 Representing the world's largest production run of its kind, according to Virginia Helias, Vice President of Global Sustainability for Procter & Gamble, 10,000 bottles of Head & Shoulders shampoo made from 25% post-consumer recycled "beach plastic" that are also recyclable will be launched this summer for a limited time in French retailer Carrefour. The bottle is the result of a partnership between P&G, upcycler TerraCycle, and French recycling and waste recovery company SUEZ Environnement.
"A year ago at the World Economic Forum in Davos, the Ellen MacArthur Foundation challenged us all to drive greater recovery and reuse of plastics," says Helias. "Procter & Gamble has long been inspired by the foundation's message for plastic to never become waste, and collaboration is the only way to truly drive progress. To make the unrecyclable recyclable, we reached out to recycling experts from TerraCycle and SUEZ to pioneer an approach to make the world's first recyclable shampoo bottle made with beach plastic."
Collection of the plastic from beaches in the U.K. and France and initial sorting of the material is handled by TerraCycle. Explains CEO and founder Tom Szaky, the collection of 2,600 tons of PCR beach plastic for the project was enabled through TerraCycle's relationships with NGOs, non-profits, and other organizations already engaged in regular beach cleanups. TerraCycle provided the supplies to send the collected waste back to its facilities and paid the shipping costs. "These groups already care about environmental issues, so the fact that this waste is now recycled instead of being sent to landfills and incinerators is a great benefit," he says.
The collected materials include a range of plastics—as well as non-plastic materials, such as seaweed. At the TerraCycle facility, operators sort through the materials manually to remove non-plastic items. From there, the plastic is sent to SUEZ where it is shredded, cleaned, and sorted again into specific plastic categories. Sorted, pure high-density polyethylene is then used as part of the resin mix (25%) for the Head & Shoulders bottle.
The bottle is grey in color—the result of its recycled material origins. Explains Helias, "The plastic collected from the beach is transformed into recyclable pellets that are grey in color, and we wanted to keep it that way. The grey Head & Shoulders bottle signals both its recycled origins and differentiation from the rest of the category. Typically, other bottles made with beach plastic cannot be locally recycled because they are made from a mix of material types."
Helias shares that P&G faced two main challenges with the project: finding the supply of beach plastic, "as it is in limited quantity," she says, and coming up with the right percentage of beach plastic in the bottle to ensure that the durability of the packaging was not compromised. Both challenges, she says, were solved through innovation and collaboration.
Both Szaky and Helias note that the cost of beach plastic compared with PCR plastic collected through traditional channels is significantly more expensive, due to the complex supply chain involved in collecting and processing it. However, says Szaky, traditional channels are "generic; there's no human element behind it." He adds, "We are engaging with collectors and helping to solve a real problem by taking the plastic off the beaches and then keeping it from being disposed of in a non-environmentally-friendly way."
After the limited-edition trial of the Head & Shoulders launch in summer 2017 in France, P&G's aspiration is to scale the approach into more brands, markets, and retailers.
Companies in this article