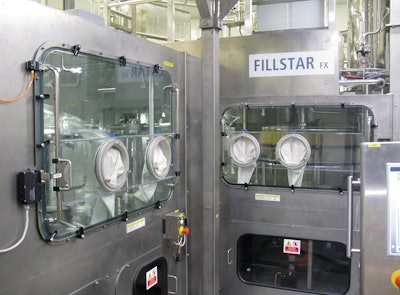 Fairport, NY-based Lidestri Foods goes to market with beverage offerings under its own brand as well as providing contract packaging services to a number of private label brands. Among its array of packaging lines are aseptic systems for PET, the newest of which went into its Pennsauken, PA, facility. It's anchored by an ECOSpin2 rotary high-speed aseptic filler from GEA Procomac that gives high-acid single-serve beverages, in sizes ranging from 10 to 59 oz, a one-year shelf life at ambient temperatures.
"It's purpose-built and high speed yet still gives us considerable flexibility in product type as well as in bottle size," says Phil Viruso, Vice President of Manufacturing at LiDestri. "We can do smoothie-type products or products with pulp as well as more conventional aseptic beverages."
On the day of our visit to the plant, PET bottles purchased from an outside supplier were being depalletized and unscrambled on a system from Lanfranchi. But out in the parking lot the crates were being removed from a KHS blow molder that was scheduled to go into production this summer and be operated by DevTech Labs Inc. A hot-fill line is in the process of being replaced by another aseptic line, and multiple blow molders are planned for the plant. Blowing and filling in line for both the aseptic lines is the plan, though the Lanfranchi unscrambler will remain in place and be utilized when needed.
Whether coming from the Lanfranchi unscrambler or directly from a blow molder, bottles are air conveyed on a GEA system to the ECOSpin2 aseptic filler. A monobloc system, it comprises an 80-nozzle sterilizer, a 50-nozzle water rinser, a 70-nozzle filler, and a 20-station Arol capper.
Representing the sixth generation of paracetic acid (PAA) sterilization technology from GEA Procomac, the ECOSpin2 includes a cap sterilizer as well as a rinser/filler/capper enclosed in a class 100 microbiological isolator that provides a physical barrier between the external plant environment and the microbiologically controlled area. The overpressure inside the isolator is created by independent energy-saving active filtration stations equipped with redundant final HEPA filters. All necessary internal machine components can be easily reached through intervention gloves without requiring operators to enter the sterile zone.
External bottle sterilization is designed to be effective on every bottle shape so that there is no microbiological carry-over into the filling area. This ensures that the line will continuously operate under aseptic conditions. The new full-cone penetrating nozzle is used for internal bottle sterilization treatment. This nozzle generates a high-pressure PAA solution spray that is able to thoroughly decontaminate the bottle interior in a short period of time. The efficiency of each nozzle is automatically checked by a "smart sensor" that ensures proper sterilization—up to a 6-log reduction—of each bottle.
On to rinsing
After sterilization, the bottle is rinsed with sterile water. GEA Procomac sterilizer is based on a full-cone, non-penetrating nozzle that maximizes rinsing efficacy. This nozzle has a pulsing spraying mode for minimum water consumption.
As for the Sterilcap IM cap sterilization, it sterilizes one-piece caps by immersion in a PAA solution. Rinsing is performed by sterile water spray. The mechanical design is focused on a jam-free spiral channel where the caps are driven by a PAA solution flow.
"We looked at other systems, but the GEA Procomac struck us as the best one available," says Keith Guenther, Beverage Engineering at the Pennsauken plant. "It also helped that we had familiarity with Procomac in our other plants. They also took us into other juice and beverage makers to see their installations, and that kind of thing speaks volumes."
Exiting the aseptic filling system, bottles pass through a drying system supplied by GEA and then a leak check system from FT System. A second GEA drying system comes next, and then the bottles are ready for labeling, which is done by one of two machines: either a pressure sensitive labeler from PE or a full-body shrink sleeve labeler from Finpac. When the Finpac sleeve labeler is in operation, a Finpac shrink tunnel performs the task of shrinking the labels tightly around the PET bottles. Exiting the shrink tunnel, bottles pass another FT System inspection station that ensures labels are in place and are on straight.
Next in line is a continuous-flow tray packer from SMI. It erects corrugated trays from flat blanks and is capable of grouping bottles in 12-, 18, or 24-count formats, though Guenther points out that nearly all the time it's a 12-count grouping that is done. The system then guides bottles into the trays and encloses the filled trays in shrink film.
According to Guenther, the machine can group bottles onto corrugated pads or even do unsupported shrink film. But once again, because the line is practically dedicated to one particular customer, it's nearly always corrugated trays that are in production. Integrated into the machine is a PROBlue7 hot melt adhesive system from Nordson as well as an ink-jet coder from Code Tech Corp. that puts date and lot code information on each tray.
Palletizing, also done on a system supplied by GEA Procomac, is followed by a stretch wrapper that's been in the plant for some time.
According to VP of Manufacturing Viruso, design and supply of the turnkey project was handled entirely by GEA Procomac. "As it turns out," he adds, "we're now putting in our third aseptic line, and we again ordered the filler from GEA Procomac."
Companies in this article
Videos from Nordson Corporation