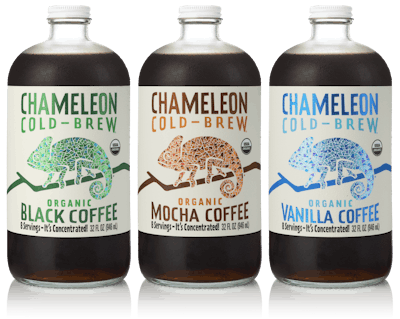 With irreverent, catchy copy on its website that includes "Bold on buzz and easy on the stomach," "the most bad-a** beans," "Coffee made for Makers™," and "Get your buzz on," Chameleon Cold-Brew has taken a similar unconventional approach to its packaging, with a chameleon graphic that shimmers and sparkles on-shelf.
Chameleon was born in Austin, TX, in 2010, when its co-founders formulated what they say is the perfect cup of coffee. The brand uses 100% organic, ethically sourced Central and South American Arabica coffee beans, tailor-roasted on-site, after which Austin's "famous Hill Country water hangs slow & cold" with Chameleon's roast, "bringing out flavors as big as Texas."
The Chameleon brand name came about with the idea of consumers being able to customize their cold-brew coffee with the company's concentrates. The brand mascot, "The Dude"—inspired by the Big Lebowski—is, naturally, a chameleon.
With its recent package redesign for its five concentrates and six RTD cold-brew coffees in glass bottles, Chameleon had several goals. Says company co-founder, President, and CEO Chris Campbell, "We wanted to help make Chameleon an iconic Austin Brand, emphasize organic, and more clearly differentiate the line of RTDs from concentrates."
It was branding and graphic design firm Bex Brands that brought a new and exciting perspective to the project, says Campbell. "We selected them because we wanted a renewed energy that would really take us to the next level, and they did just that," he says.
Bex' idea was to incorporate the look and feel inspired by the signage, murals, and artisan spirit of Austin into a mosaic-patterned chameleon, printed using vacuum-metallized ink for an almost holographic appearance. The metallized ink is a first for the cold-brew coffee category, as are the vibrant colors and sparkle of the labels. Notes Campbell, many cold-brew brands have a very dark look that appear more like beer or spirits. "Whenever we see the entire new [Chameleon] set at retail, it literally sparkles on the shelf and is the only bottle you see," he adds.
For each flavor, a different color pattern is used on The Dude and the label copy. For example, shades of green for Black Coffee, blue for Vanilla, brown for Mocha, etc.
Right now, Campbell says, the design is intentionally more masculine, but as the brand grows, the company plans to appeal to a wider audience, versus focusing on a particular gender.
Chameleon Cold-Brew RTD and concentrate products are sold on the company's chameleoncoldbrew.com website, at select grocery and convenience stores nationwide, and online at Fresh Direct and Amazon Fresh in the Northeast.
Companies in this article