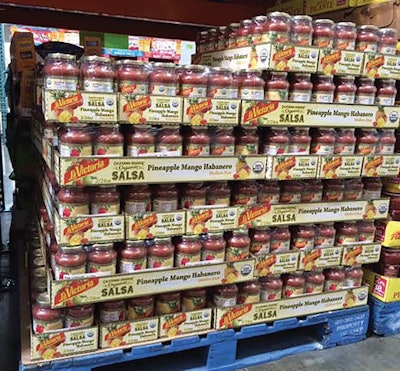 MegaMex Foods, Orange, CA, a joint venture of Hormel Foods and Herdez del Fuerte, S.A. de CV, processes and packages Mexican food products under a range of familiar brand names from Chi-Chi's® and Del Fuerte® to La Victoria®.
The La Victoria® brand recently has made some notable packaging changes for its salsas and sauces to enhance transportation efficiencies and consumer convenience. Glass packaging has served La Victoria® well and continues to be an important part of its packaging repertoire. But the company has acknowledged the weight and shatter-resistant advantages of PET over glass for some product applications.
In July 2016, the first La Victoria® salsa was converted from glass to hot-fill PET. The company is working with California's largest food processor, Olam Spices and Vegetable Ingredients, Fresno, CA, who hot-fills the 24-oz a-pex™ PET containers supplied by Amcor. The two-stage blown and trimmed bottles incorporate a vacuum-absorbing base and get a pre-coat and post-coat of silicon oxide prior to filling. The empty bottles weigh 51 grams compared to their glass counterparts at 364 grams. Olam was key in helping deliver the expertise to solidly marry the PET jars and the steel caps.
In its co-packer capacity, Olam SVI fills the La Victoria® containers at temperatures up to 205 F, and caps them using steel Silgan ParaPET™ closures and Model WC600 Vapor Vacuum™ capping equipment supplied by Silgan. The combined attributes of the uniquely designed jars, caps, capping equipment, and filling process create the successful packaging. Estimated non-refrigerated shelf life of the PET-packed salsas is 18 months.
Capping with confidence
The all stainless steel Silgan capping equipment, which uses steam vacuum technology to displace container headspace air, is engineered to accomplish capping speeds up to 800 cpm and to easily integrate with existing fillers. The capper features PLC controls and push-button operator friendliness.
Silgan, who works with a broad range of cap users, custom-developed the 63mm-diameter steel lug cap that works on the La Victoria® PET bottles. Typically, 63mm closures have four lugs. The Silgan ParaPET™ closure design has five lugs and increases the lug length to hold the caps securely while lowering the pressure on the neck to prevent deformation during the hot-filling process.
At shipping stage, the filled and capped PET bottles are placed in corrugated trays, shrink-film wrapped and palletized for shipment. Details about hot-filling, labeling, tray packing, shrink wrapping, and palletizing equipment were not disclosed.
Companies in this article