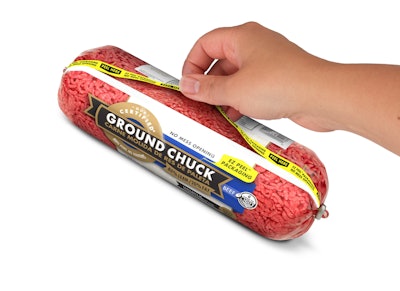 Cargill has announced that it will be the first beef producer to offer EZ Peel™ packaging for ground-beef chubs in retail stores across the U.S., beginning January 2017. The technology, developed by Bemis Company, will be used exclusively for Cargill's Our Certified 1-lb ground-beef chubs.
Notes Cargill, its 2015 Innovation Study revealed that 57% of consumers surveyed wanted better ground-beef chub packaging that allows them to open products without touching raw meat. Additionally, the Flexible Packaging Association's 2015 Brand Value Study reinforced consumer desire for the added convenience, with 60% of its more than 2,000 consumer respondents identifying "easy to open" as a top package attribute.
EZ Peel packaging can be engineered with a custom peel strength and can be run like regular film on existing equipment for no machine downtime. The benefit for the ground-beef chub package is that it will eliminate consumers' contact with the meat when preparing meals.
"We know that consumer desires are changing, and our team is diligently working to provide innovative solutions to meet these desires. The new EZ Peel packaging is just one of the latest innovations in Cargill's ground beef products," says Katie Blick-White, Brand Manager for Cargill's Our Certified ground beef line. "The traditional chub packaging has not been modified for a long time, so this is the first major change to the packaging in years. We're listening to consumers and want to provide convenience for their home cooking experience, while also maintaining our reputation for delivering high-quality, fresh, nutritious and flavorful meat. Limiting the need to handle raw ground beef also enhances the food safety aspect of meal preparation."
The EZ Peel packaging represents a slight modification to the familiar Our Certified 1-lb ground beef chub package currently available in retail stores across the nation, and will be offered in a variety of lean points and source grinds, such as sirloin, chuck, and round.
"We are introducing EZ Peel packaging 1-lb chubs, the most popular ground-beef portion size for consumers, with confidence that shoppers will know their voices are being heard by Cargill's beef team," continues Blick-White. "We want to provide consumers with choices in the meat case that meet their desires and through ongoing consumer research, our goal is to become their preferred ground beef source."
Companies in this article