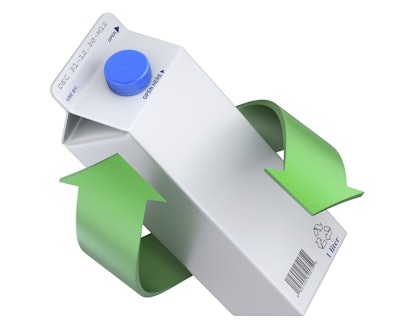 The packaging industry is constantly evolving to be environmentally responsible. Additionally, as more Americans expect the brands they purchase to demonstrate sustainability, it is even more important that our industry works to help expand options that make it more convenient for consumers to participate in recycling their everyday goods. This includes food and beverage cartons.
Carton recycling in the U.S. is gaining momentum as access to it continues to increase and more Americans have the ability to recycle the food and beverage cartons they consume through their local curbside and drop-off programs. With the infrastructure in place, we can expand our efforts to ensure that cartons are being recycled.
There are two kinds of food and beverage cartons: aseptic (or shelf-stable), and gabletop. Along with juice, cartons are used for milk, soups, coconut water, beans, and even wine. Both types of cartons are recyclable. Food and beverage cartons actually represent some of the cleanest and what's referred to as the best long-fiber remaining in the residential recycling stream.
Cartons are recycled in two ways. In the first process, once cartons have been consumed in American households and collected at the curb, they are sorted and baled at a materials recovery facility (MRF) and shipped to the paper mills. At paper mills, the fiber is extracted and separated in a machine called a hydrapulper, which resembles a giant kitchen blender. The pulp that comes out is used to make paper products such as tissues, paper towels, office and writing paper, and toilet paper. The residual aluminum and plastic can also be further recycled or used as energy in the recovery boiler at a paper mill.
The other option is for cartons to be shipped to a manufacturing company where they use the whole carton to make high-quality green building and construction materials, such as roof cover board, exterior sheathing, moisture- and mold-resistant composite panels, ceiling panels, and wallboard. Cartons are an ideal source of material for products like this because the inherent nature of food and beverage cartons is perfect in resisting moisture and mold.
Bringing carton recycling to the U.S.
In 2009, only 18% of American households were able to recycle cartons. Today, that number has increased to more than 58%. Recycling cartons is now possible in nearly 67.8 million U.S. households.
The Carton Council is an industry organization with the goal of developing long-term collaborative solutions to divert valuable cartons from landfills. The council is committed to building sustainable carton recycling nationwide by working with stakeholders at each point of the recycling supply chain, from the cities and recycling facilities to the recyclers.
It's been widely reported in the recycling industry and even in the mainstream media that while a material may technically be recyclable, if there is not an easy way for consumers to recycle it and an end market for that material, its "recyclability" is not necessarily relevant. Through the work of the Carton Council, paper mills like Fox River Fiber in Wisconsin are actually in demand for more cartons. Additionally, companies like The ReWall Company in Iowa, which makes green building materials, also want more cartons.
While there's been a 222% increase in access to carton recycling and 80 of the top 100 largest U.S. cities include cartons in their local recycling programs, the Carton Council is still working hard to get more communities on board and to educate consumers to place their cartons in the recycling bin.
The Carton Council also helps schools establish carton recycling programs for the cartons consumed on-site. Over a period of five years, an elementary school with 400 students can help save the equivalent of nearly 1,500 reams of paper, 72 trees, and 28,848 gallons of water, just by recycling their milk and juice cartons. Earlier this year, the council partnered with Young Minds Inspired (YMI) to create and distribute a new set of teaching materials that focus on carton recycling.
Companies and brands play an important role in the carton recycling story, particularly those that make products packaged in cartons. A few years ago, the Carton Council created an informal network of carton recycling ambassadors that currently includes 24 food and beverage companies. These companies are committed to helping the council educate consumers and customers that cartons are recyclable and are encouraging them to recycle.
Jason Pelz is Vice President of Recycling Projects for the Carton Council of North America and is Vice President, Environment, for Tetra Pak Cluster Americas.