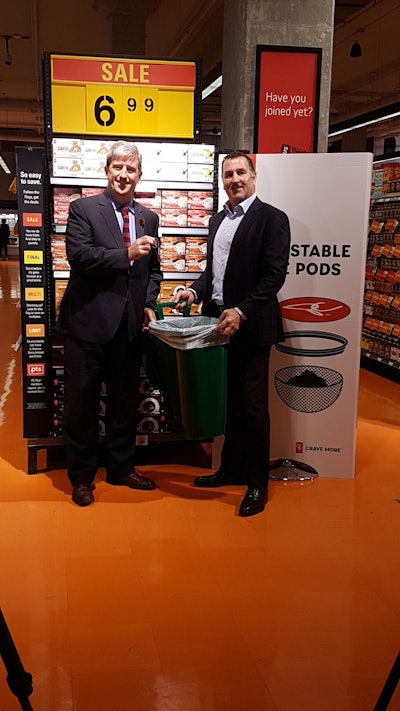 Loblaw Companies Limited has launched BPI-certified 100% compostable President's Choice single-serve coffee pods. The Keurig-compatible pods are made almost entirely from plant materials and reclaimed coffee bean skins, using Canadian innovation from University of Guelph and Club Coffee of Toronto. Club Coffee introduced its 100% compostable coffee pod—the PürPod 100—in late 2015. With the launch of this product, 100 million President's Choice and no-name pods sold annually will be compostable in the kinds of large-scale composting systems that serve millions of Canadian households*.
As the single-serve coffee category has grown exponentially over the past few years, so too has concern about the impact of the waste.
"Our company and customers challenge the notion that convenience packaging is a justification for waste," says Galen Weston, Executive Chairman and President, Loblaw Companies. "We expect this product launch and the Canadian innovation behind it will re-invent the category, helping our customers to enjoy their coffee without sacrificing their commitment to the environment."
According to Loblaw, the President's Choice brand has made environmental consciousness a brand hallmark for more than 25 years, since the launch of PC G.R.E.E.N products in 1989. More recently, the company has diverted close to 10 billion single-use plastic bags from landfill through its pay-for-plastic bag program.
The President's Choice pods are the first single-serve coffee pods to be certified by the Biodegradable Products Institute (BPI), says Loblaw.Compostable pods are identified by the BPI logo on pack and by the brown ring on the pod.
"I am very pleased to participate in today's announcement to showcase a made in Ontario innovation that will help reduce waste and hopefully encourage further environmentally sustainable packaging solutions," says Glen Murray, Minister of the Environment and Climate Change. "A priority of the Government of Ontario, through the recently passed Waste-Free Ontario Act, is encouraging innovation in consumer packaging, eventually moving towards a circular economy in Ontario. Today's announcement is a great example of that innovation in action."
"The President's Choice brand offers Canadians world-class products without compromise, and we know that a great convenient coffee shouldn't have to come at a great environmental cost," says Ian Gordon, SVP, Loblaw Brands. "Through Canadian collaboration and innovation, we're launching a game-changing solution to an environmental challenge facing millions of households."
* For collection in municipal programs. These coffee pods may not be accepted for composting in all areas.