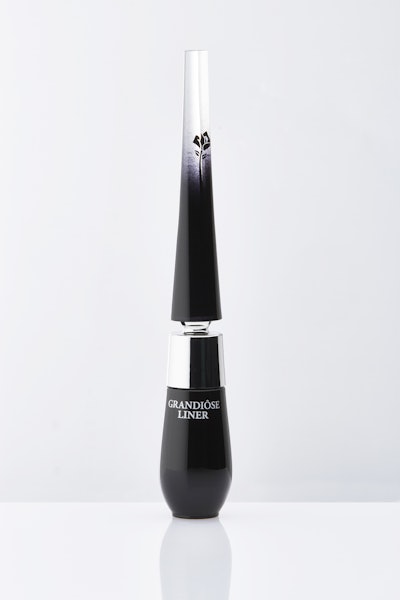 Following the launch of its Grandiôse mascara with a "swan-neck" wand in 2014, Lancôme is now reinventing its eyeliner packaging with its new Grandiôse Liner. Its design, equipped with a clever pivot, allows for ergonomic handling with a brush that folds up to 35 deg for precise application. DuPont Surlyn® resin remains the material of choice to perpetuate the visual identity of the Grandiôse by Lancôme product line.
Having topped the Grandiôse mascara with a transparent part containing the Lancôme rose with floating petals, Surlyn resin is used to decorate the cover of this new extension to the eyeliner.
Confirms Jérôme Liard, Director, New Product & Business Development at packaging supplier Albéa, which was responsible for the packaging design, Surlyn met the specifications list. "Surlyn is the only material capable of technically and aesthetically meeting the specific requirements for this design," he says. "We obviously chose Surlyn because of its transparency, but it also allowed for a practically invisible injection point, placed directly underneath the edge of the part."
The cap was injected with Surlyn before receiving a metallic finish. The Lancôme rose was thermo-stamped, and the entire piece was then varnished in gradient with a protective varnish. This is a different technique from that used for the mascara, as the rose was not encapsulated with Surlyn molding, but rather stamped onto the piece.
The new eyeliner also uses DuPont™ Crastin® polybutylene terephthalate in the internal wand connected to the extremely fine liner tip and in the metallized external ring. Says DuPont, Crastin offers excellent chemical properties in contact with the cosmetic formulation as well as the adequate mechanical properties to assure the perfect application of the product.
Companies in this article