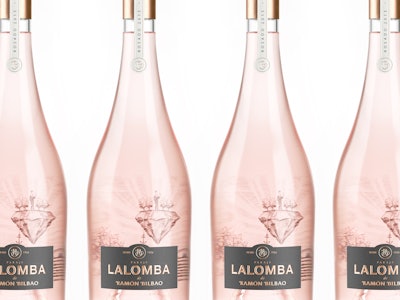 Spanish winemaker Ramon Bilbao, part of Diego Zamora Group 9, has introduced a new top-end rosé sub-brand, LaLomba, with packaging created by branding and packaging design agency Appartement 103. As one of the fastest growing wineries in Rioja, Spain, Ramon Bilbao is widely regarded as one of the country's most innovative producers in the premium segment. The launch of LaLomba positions the winemaker as a Rioja "terroir" reformer, focused on the affect of the region's climate, soil, and terrain on the taste of wine.
Appartement 103 was briefed to develop a new brand that would convey the DNA of Ramon Bilbao's brand with a sophisticated image, targeting fashionable consumers and following the international trends that typify rosé wines worldwide. A recent trend in the premium Spanish wine sector its emphasis on terroir as a key quality indicator. LaLomba was created to reclaim the terroir as the best characteristic to identify the authenticity and exclusivity of a wine.
Planted in 1973, LaLomba represents a unique vineyard, located in one of the highest slopes in the D.O.C. Rioja. The brand story captures the perfect terroir for the wine, a "magical" piece of land that allowed Ramon Bilbao to share with the world the best wine it could create.
"Our design team created and translated the brand story onto a fantastic illustration that has become the hero of the overall presentation. With a label screened on the back of the bottle, Ramon Bilbao's dream is portrayed and augmented through the juice inside. The front label resonates elegance with simplicity, ensuring that the spotlight shines on the illustration itself," says Marc Savary, Appartement 103's co-founder and creative director.
Appartement 103 created an intriguing design that enhances the engagement between the product and its consumers. From the front label to the rear see-through illustration, the final design is a stunning presentation that projects the consumers into a visual odyssey.