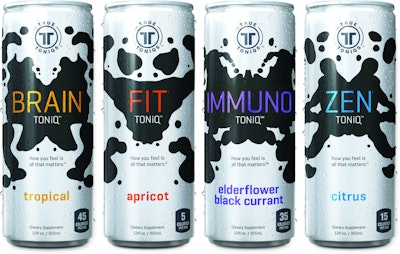 Mimicking Rorschach-style inkblots, graphics on redesigned packaging for TRUETONiQS'™ line of liquid dietary supplements let the consumer decide how the beverage makes them feel. TRUETONiQS™, of Boulder, CO, has been producing its lightly carbonated, certified organic supplements since 2009. In 2015, the company reformulated its line to include many CO2-extracted botanicals, Ayurvedic herbs, no caffeine, less sugar, and "zero junk." In addition to its flagship BRAIN TONiQ™ and FIT TONiQ™ varieties, TRUETONiQS™ 2.0 now also includes ZEN TONiQ™ and IMMUNO TONiQ™.
With the expansion and reformulation of its products, TRUETONiQS™ felt the need for a complete redesign of its packaging—"and a representative story to reflect the new formulation philosophy," says Kelly Reedy, CEO of LRXD, the advertising agency responsible for the rebranding.
That philosophy hinges on the product's tagline, "How you feel is all that matters." Explains TRUETONiQS™ CMO, Janet DiGiovanna, "People see through supplement brands that make outlandish claims about their efficacy. Instead, we're putting our products in consumers' hands and saying, 'You decide.'"
Adds Reedy, "The liquid dietary supplement market is rife with litigation around product claims and fluffy promises. TRUETONiQS™ doesn't make any claims about their products, but instead urges the consumer to try one and decide for themselves."
In addition to conveying its brand positioning, TRUETONiQS™ also wanted the new graphics for its 12-oz aluminum can to stand out on the shelf and in the retailer's coldbox. With its crisp, white background, pops of color corresponding to each variety, and central inkblot graphic, the new can is meant to signal refreshment, hydration, and nutrition.
The new package design launched in March 2016, and since then, according to Reedy, has opened doors with retailers in both natural and traditional grocery stores. "Consumers have been extremely receptive to the new design," she adds.
The TRUETONiQS™ line of liquid dietary supplements is sold in retail locations across the Southeast, Midwest, Southwest, and West Coast as well as on Amazon.
Companies in this article