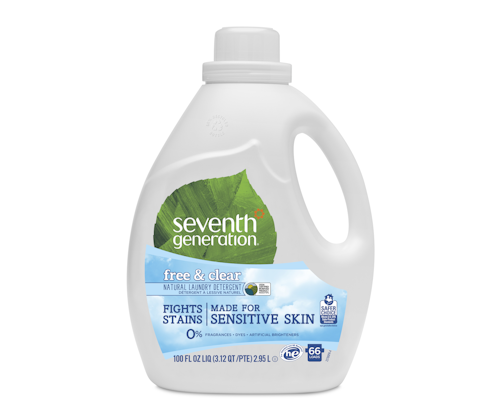 Taking another step toward its vision of having all of its packaging made from recycled or bio-based materials by 2020, Seventh Generation has introduced a new 100-oz laundry detergent bottle made from 80% recycled high-density polyethylene, 17% bio-based polyethylene, and 3% colorant. The bio-based material, Braskem's I'm green™ PE, made from Brazilian sugarcane, replaces the 20% virgin, petroleum-based plastics previously used for the packaging.
Seventh Generation produces plant-based household cleaning products and has led the way in pioneering new and more sustainable packaging technologies. Among them, a fully recyclable multilayer PE pouch for its dish detergent pods in 2015 and a fully recyclable paper-based bottle for its concentrated liquid laundry detergent in 2011.
According to company Director of Packaging Development, Derrick Lawrence, Seventh Generation has made steady progress over the years toward its corporate sustainability goals, however incorporating more than 80% PCR in its larger bottles was a challenge. "Our 100-ounce laundry bottle was one of our few remaining bottles under 100% and one of our largest contributors in total pounds of virgin petroleum plastics."
Seventh Generation began working with partners Consolidated Container Company (CCC) and Braskem in early 2015 to incorporate the use of plant-based plastics in the 100-oz bottle. Lawrence says the company chose Braskem's I'm green material because, as a drop-in alternative, it offers manufacturing efficiencies and does not contaminate the recycling stream. "Being a large buyer of PCR, keeping this stream as clean as possible is extremely important to us," he says.
He adds that only slight changes were required during package manufacturing to accommodate the new material. Through a qualification process, Seventh Generation also found that the new bottle performs equivalently to the previous version.
The new bottle for five SKUs of laundry detergent is being produced at two locations, the first of which began producing the container in May 2016 and the second in August 2016. With the removal of petroleum-based plastics from the bottle, Lawrence says Seventh Generation will eliminate 77 tons of virgin HDPE from its supply chain each year. While the bottle label does not currently advise consumers of the switch, plans are under way to include on-pack information in 2017.
Moving forward, Lawrence says Seventh Generation will consider the Braskem material for any bottles for which it cannot use 100% PCR and for flexible applications where it has been a challenge getting manufacturers to use higher quantities of PCR.
Companies in this article