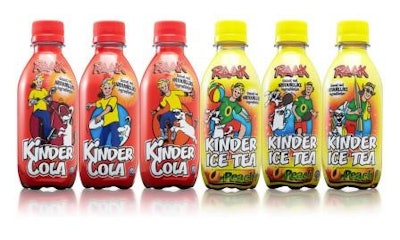 For its premier youth cola made without caffeine and with significantly less sugar than traditional cola, Kinder Cola has tapped Constantia Flexibles to produce their new shrink sleeve labels.
Until recently, these products used a wrap-around label. Kinder Cola's goal was to maximize their branding with a higher quality label. Constantia Flexibles' shrink sleeve label was the chosen solution. It amplified their branding by providing a 360-degree messaging platform, more than doubling the amount of space available. Additionally, Constantia Flexibles' technology includes multiple image printing, allowing for three designs per reel. Their bright and varied kid-friendly graphics pop off the bottle and visibility on-shelf has significantly increased.
The Kinder Cola team is very happy with the new label and is now using it on all of their kid-focused beverage products.
Companies in this article