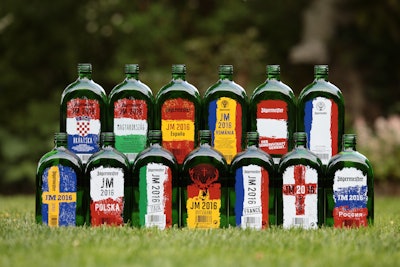 The bottle comes out of the Ardagh Group's glass factory in Nienburg, Germany. The collection comprises 800,000 bottles in 18 different screen-printed versions, with the flags of the nations who competed in the 2016 European Football Championships in France, for sale into those specific countries.
To screen print the flags directly onto the surface of a square green bottle represented a significant challenge for the decoration team, and one that was met through careful pre-planning and a meticulously organized production process using organic UV inks.
Usually, it is necessary to have a white underlayer to achieve bright colors on a green bottle. This was not possible because of the highly detailed artwork, and it was necessary to find an alternative method. This was achieved by developing highly pigmented and tailor-made inks for this specific project and by using specific screens and squeegees that result in a much higher level of ink film on the bottle.
These specific tools also helped to overcome the challenges of square bottles and made it possible to realize such a large printing area without having any printing errors or visible color variations. The UV inks themselves guaranteed a highly glossy surface, sharp edges, and the realization of strict PMS colors. The result was a very distinctive bottle with excellent shelf stand out presence.
Carsten Doliwa, Head of Purchasing and Materials Management from Jägermeister remarked: "We are delighted with the end result of this latest packaging innovation for our brand using directly printed decoration . Our close cooperation and teamwork with Ardagh and PSL Hehlen on this complex process was crucial."
Companies in this article