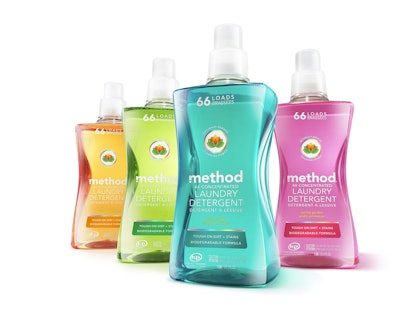 San Francisco-based Method continues to develop some of the most innovative packaged products sold commercially.

Method produces home, fabric and personal care cleaning products formulated with naturally derived, biodegradable ingredients and environmentally conscious packaging. Understandably, its emphasis on sustainability and social causes as a B Corp has earned the company recognition and media coverage, not only from this publication, but also from the Wall Street Journal,Woman's Day, and others.
In the 28th DuPont Awards for Packaging Innovation, Amcor Rigid Plastics earned a Diamond Finalist award for Method's Liquid Laundry Detergent 53-oz PET 100% post-consumer recycled bottle. It was honored for excellence in Technological Advancement, Responsible Packaging and Enhanced User Experience.
According to DuPont, "The transparent, custom container delivers strong shelf appeal and has broken ground in a market predominantly limited to opaque high-density polyethylene containers."
The clear bottles allow consumers to see the colorful liquid cleaning products inside. They are stretch/blow-molded at Amcor's on-site location within Method's LEED (Leadership in Energy & Environmental Design) Platinum-certified facility in Chicago's historic Pullman district.
Known as "The South Side Soapbox," the facility uses energy from a refurbished wind turbine and solar panels.
Matthew Lewis, Amcor's Senior Development Engineer, explains how the bottle manufacturer worked through challenges related to the container's neck design, spout closure, and handgrips. "The recommended finish design for the two-piece polypropylene pour spout and cup closure was intended for a traditional HDPE or PP detergent bottle," he says. "The pour spout required orientation to the front of the bottle—and once in that location could not be rotated by the removal of the pour cup.
"The finish for this PET bottle had to be redesigned and tested during the unit development stage to ensure compatibility. The lug design on the neck went through a series of design trials to find the best option. In addition, a small adjustment was made to the bottle's shoulder height to accommodate the filling process."
Amcor's design and engineering teams worked closely with Method's industrial design team to create a bottle with Method's unique look, which could be stretch blow-molded without a handle.
Lewis explains, "The mold design created challenges due to the cross-corner parting-line split and the highly functional ergonomic handgrips molded on the back side of the bottle. This was overcome by a variable-radius parting line that allowed the part to release from the blow mold with no plastic entrapment."
The bottle's ergonomic design allows easy grip and pouring and comfortable lifting of the heavier bottle. The new bottle is said to provide a 35% lower carbon footprint and 78% lower life cycle energy consumption than a virgin PET alternative.
"We always enjoy working with Method in designing bottles since they push the limits on PET bottle and mold design," says Lewis.
Companies in this article