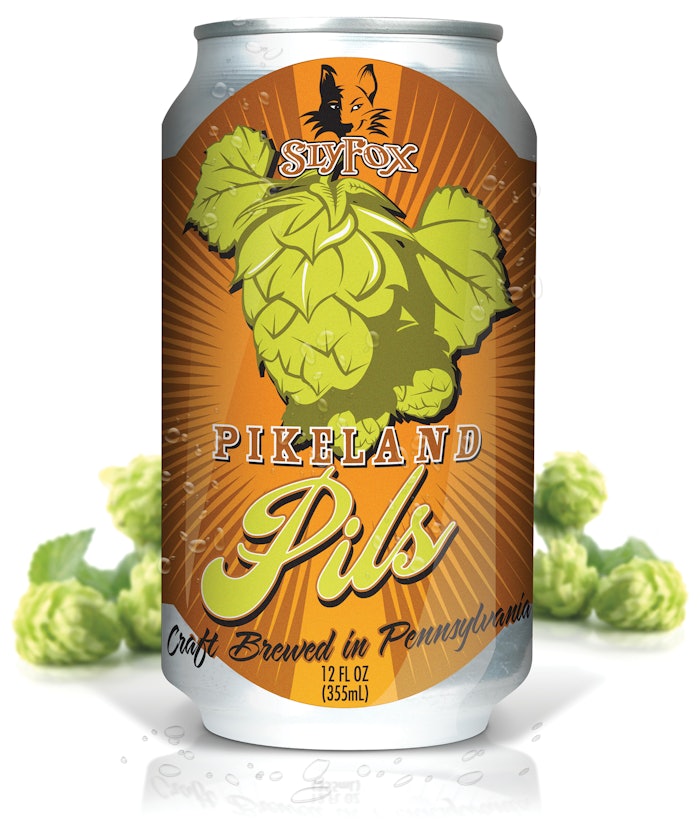 Volumetric flow meter comes to craft
Sly Fox Brewery of Phoenixville, PA, was at a stage of its can-filling development where 60 cans/min just wasn't cutting it. From 80 to 200 was what the firm needed, but until recently it was challenging to find a filler/seamer designed for anything less than 300/min in mind. Then came the introduction of the Craftmate from Krones—large-scale brewery technology for the craft brewer. Sly Fox was among the earliest to install it, and now the firm has the can filler and seamer it's been looking for.
According to Sly Fox Brewmaster Brian O'Reilly, it's not just the scaled-down size of the filler/seamer that floats his boat. "We believe that a volumetric filler is much better than the fill-tube filler we've been using when it comes to accurate fill levels, especially when you're filling a container like a can with such a wide opening," says O'Reilly. "Now there's finally a volumetric filler that matches our volume requirements."
Equipped with 24 filling nozzles, the Krones system features exact determination of the filling quantity by means of inductive flow meter. It also adheres to the highest standards to minimize oxygen pickup. The system includes a four-head seamer from Ferrum. Sly Fox is running at about 170 cans/min.
"It's an exciting time to be in craft brewing, especially now that the equipment suppliers are building equipment that matches our scale," says O'Reilly.
Labels to the rescue
Sometimes craft brewers have difficulty sourcing aluminum cans because they can't meet the can makers' minimum order requirements. One solution to this dilemma is for the brewer to order bright stock cans and then differentiate various SKUs by way of labels.
Cans sporting labels were in evidence at the Craft Brewers Conference, and a good example was Slanted Porch Ale from Holy City Brewery of Charleston, SC. The label in this case was a flexo-printed biaxially oriented polypropylene from Century Label. The same label applicator, a Model 700VS from In-line Labeling Equipment, that the brewery used to use for its bottled products is now used for cans.
Another approach to can labeling is the shrink sleeve route taken by Verst Group Logistics. Verst allows craft brewers to purchase cans for smaller runs by housing an available inventory of bright stock aluminum at all times. This also eliminates the need for brewers to warehouse and manage their own excess inventory. Shrink sleeve technology and longstanding relationships with multiple label printers make Verst a viable partner for can decoration. The firm's new on-site Fuji Seal 415 applicator runs at speeds to 600 cans/min.
Among craft brewers that are taking advantage of this service is Red Hare Brewing Co. of Marietta, GA. Its 16-oz cans of Gangway IPA with full-body shrink sleeve label were made available at the Atlanta Braves' Turner Field Home Opener. According to brewery owner Roger Davis, the beer distributor in charge of the ballpark wanted only 16-oz cans at the park. Red Hare, at the time, only produced 12-oz cans. So the brewery had to scramble to get a 16-oz can in time. "I think it was four weeks from art to can delivery here at our facility," says Davis. He believes sourcing cans this way will continue to make sense for plenty of channels other than Turner Field.
"Craft brewers are constantly innovating, because the variety factor is among the things that drive craft brewing in the first place," says Davis. "But we can't possibly order printed cans in sufficient quantities for all those SKUs, especially when minimum order quantities are 200,000. That's where this Verst approach makes so much sense. Being able to react quickly to bring new brands to market is key for the craft brewer. Verst makes it happen."
Cartoner expands brewer's reach
To meet the high demand for canned craft beer, Summit Brewing Co. of St. Paul, MN, chose the compact, economical, and efficient Vantra IM cartoner from Douglas Machine. The Vantra IM expands the brewery's offering to include 12-, 24-, and 30-pack cartons of cans at speeds to 50 cartons/min.
Tom Thomasser, Chief Operations Officer of Summit Brewing Co., says, "I've bought and installed every piece of machinery in this brewery, and this was by far the best startup I've ever been through. Our efficiencies exceeded expectations from day one."
Pale Ale in aluminum bottle
Phillipsburg Brewing Co. of Phillipsburg, MT, recently put one of its most popular beers, Tramway Rye Pale Ale, in Alumi-Tek® reclosable bottles from Ball Corp.
"Montanans spend much of our time outside," says the brewery's Sales and Marketing Manager Maddy Mason. "We chose Ball's Alumi-Tek bottle because we want to make sure that the beer ends up in your mouth and not in your boat! The smooth pour and distinctive look and shape of Alumi-Tek offers a premium drinking experience to our fans, and a look that makes our beer stand out on retail shelves in a growing craft beer market."
"Today's consumers, particularly millennials, view cans as a convenient, portable, and sustainable package that can go anywhere they go while protecting the beer inside from oxygen and light," says Bruce Doelling, VP Sales for Ball's North American metal beverage packaging business. "Cans also offer a 360-degree billboard for brand messaging and high-quality graphics, making cans a fun package in any setting. Phillipsburg Brewing is taking advantage of those benefits to deliver a unique experience to people who love great craft beer."
Chicago brewer rises from the ashes
Chicago's Atlas Brewing found out the hard way that it would have to reinvent itself with a new name late last year when it learned it had lost a trademark fight with a Washington, DC brewer named Atlas Brew Works. But the Chicago firm has come to terms with this unexpected twist and, according to founder Steve Soble, it will be the better for it. As he told a Chicago Tribune reporter in April, the firm has "burned everything to the ground." And from the ashes comes the new name and can design: Burnt City. For those who don't hail from Chicago, it's a reference to the 1871 Great Chicago Fire. Viewed as a disaster at the time, it gave Chicago the clean slate it needed to become the birthplace of modern architecture. Soble is hoping something equally propitious will emerge from his brewery's rebirth.
Soble and company brought in the Chicago design firm Mighty Few to create its new look. Having worked with craft brewers such as Revolution Brewing, Penrose, and Brickstone, Mighty Few had certainly demonstrated that it knew the territory. The design it came up with for Burnt City is a big departure from the design used for Atlas Brewing. The Chicago Tribune puts it this way: "Atlas' tidy, geometrical shapes have given way to yellow-eyed, post-apocalyptic silhouette characters in motion—residents of the 'burnt city,' which is meant to invoke Chicago after the great Fire of 1871."
How to save $20,000 annually
An impressive upgrade in can rinsing at Oskar Blues' Longmont, CO, and Brevard, NC, breweries will save the craft brewer more than 5 gal of water/min and nearly $20,000 annually.
The upgrade converted the existing water-based can rinsers to ionized air. Oskar Blues sought the help of BW Container Systems to help them come up with a solution to cut their water usage. BW Container Systems' solution was to remove the water components of the existing rinser and add the ionized air rinser components with a self-contained blower assembly.
According to Oskar Blues Plant Manager Jim Weatherwax, being headquartered in Colorado—a state where water is relatively scarce and, consequently, expensive—made the switch to ionized air extra attractive. "We're seeing a great savings in the water we're putting down the drain, we're not having to pay high wastewater fees, and the dissolved oxygen levels in our beer have dropped significantly."
Because of the savings, there is a payback potential of 2.1 years. There's also a reduction in corrosion wear after removal of the water components. On a gripper machine, there is a potential further savings by reducing the corrosion of stainless steel components and converting from stainless steel gripper chain to nickel-plated chain. Finally, the switch to ionized air reduces a slip hazard formerly caused by water on the floor, which is prevalent with water-based rinsers. Watch a video of this packaging line at pwgo.to/2214.
Why stop at beer?
As I travel, one request I hear over and over again from our beer consumers is, 'When are you going to step up the spirits program and take Dogfish Head's off-centered approach to a wider audience? Well, over the last year we've made the right investment and the answer is now."
That's how Dogfish Head Founder and President Sam Calagione describes how and why his 20-year-old craft brewery in Milton, DE, got into the spirits business.
"You can make spirits from almost any type of raw material," says Dogfish Head's Head Distiller Graham Hamblett, a horticulturist with nearly two decades of experience running an artisanal winery and distiller. "In our process, everything starts in its rawest form, from scratch, and we use the best ingredients available. We use a batch distillation approach through each stage. It's a bit more work than other approaches, but it allows me to closely monitor and control each step of the distillation process."
Dogfish Head's new distillery in Milton gives Hamblett access to the same quality ingredients, brewing expertise, and equipment used to make Dogfish head off-centered ales. Assisting in moving the spirits project forward was Saxco International LLC, which helped to create a high-quality, private-mold, square-shaped flint 750-mL bottle for the three new spirits. The bottle's flat shoulders and premium thick glass base make it really stand out, as does the prominent embossed Dofgish Head logo on its right hand side. The glass manufacturer also executed the heat-applied unique two-color pictorial graphics on the front of the bottles; according to Saxco, the image is a "fired-on decal." These concepts and designs were done by Dogfish Head Lead Designer Tim Parrott. Parrott also provided the graphic designs for the pressure sensitive two-color labels that are applied above the heat-applied graphics.
First can for craft brews in Spain
Spanish craft brewer Arriaca is said to be the first to launch a craft beer in a can, as three of its brews are now available in 330-mL cans from Rexam.
Designed by Arriaca with the support of Rexam, the minimalist yet bold can designs reflect the rebellious nature of the pioneering brand. A premium matt-over-varnish finish echoes the quality of the beer.
"We made this decision having recognized the benefits of the can in terms of sustainability and its capacity to conserve liquids," says Arriaca CEO Jesus Leon. "In recent years, the craft beer market has experienced tremendous growth, and the striking design of the new can is key to attracting and engaging new consumers."
Versatile wraparound packer
Wraparound case packers that put primary packages into corrugated shippers have been around for a long time. But a wraparound packer able to handle either corrugated or paperboard blanks is a relatively new concept. At the Craft Brewing Conference, Hartness showed just such a machine, its HTW wraparound packer.
The HTW is a high-speed tray and wraparound packer for both beverage and food applications, with a capability of running at speeds of up to 60 cycles/minute, depending on the product size. Its modular design makes the wraparound particularly flexible, as it's fully capable of doing cans, bottles, multi-packs, cartons, or trays. The system handles B, C, E, and F-fluted corrugated or paperboard down to 20-point thickness. No materials contract is needed, adds Hartness.
Odell Brewing of Fort Collins, CO, will soon take delivery of one of these machines. At the Craft Brewers Conference, 12-oz cans of Odell's 90 Shilling Ale were being packed in 24-pt paperboard.
More bottles/min
When Green Man Brewery of Asheville, NC, needed more bottle-filling capacity, it turned to KHS and the Innofill DPG Micro 40/30/10. The machine on display at the Craft Brewers Conference (shown) is the very machine that is now on its way to Green Man. The system features a pneumatically controlled short-tube filling machine with a rated speed of 20,000 bottles/hr. Included are rinsing and crowning modules.
Attention to detail is the hallmark of the English-style beers that Green Man produces, and the firm says it picked this KHS machine because "we can be assured that the same level of quality will be upheld with our packaging." The firm plans to run at about 150 bottles/min.
Companies in this article