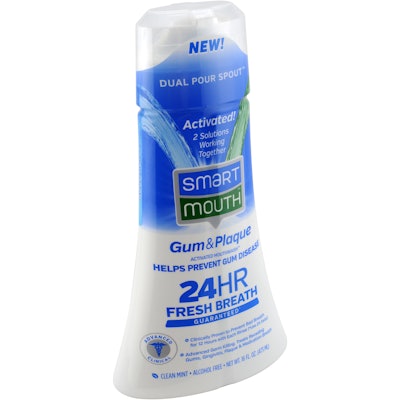 Innovation is more than a buzzword for Triumph Pharmaceuticals Inc.
By employing a tapered bottle that widens at its base and a dual pour spout that allows the consumer to activate two liquid solutions from two bottles simultaneously to address bad breath, SmartMouth oral care products represent a packaging triumph—pun intended.
St. Louis-based Triumph focuses on enhancing the consumer experience, and the redesigned package is striking, whether it's standing on a store shelf or in the home.
Triumph worked with TricorBraun, winning the Bernard M. Seid Best of Show Award from the National Assn. of Container Distributors for SmartMouth Mouthwash.
"There's a technology and a science in what we do and that's why we're the superior oral care product," says Ron Kappauff, Triumph's VP of Sales & Marketing. "We've had a long-term, ongoing business relationship with TricorBraun because of their superior service, support, communication and willingness to do whatever it takes. They are an amazing partner."
SmartMouth Mouthwash is marketed in three 16-oz varieties: Original, Dry Mouth and Gum & Plaque) It's unique in its product category as its dual-bottle delivery system allows the consumer to mix two solutions together from two opaque PET bottles—held together by a closure system and a full-body shrink-wrap label—prior to dispensing. That way, each time you rinse you have freshly activated the ingredients for lasting results.
In one bottle, "Solution #1" contains an odor eliminator, while "Solution #2" in a second bottle contains zinc. Prior to use, the two solutions must be stored in two separate bottles to avoid cross-contamination.
The two bottles are positioned such that each bottle's sole flat side connects to the other. Mixing the two solutions is designed to blocks germs' ability to ingest protein particles, eliminates sulfur gas production and bad breath.
For Triumph, goals of the project included enhancing the consumer experience through ease of use and aesthetic appeal, maintaining the current retail footprint, and creating a design that would set them apart on shelf.
Previous to this new design, the bottles were not connected by a shrink sleeve but were sold together in one box.
Brent Dellay, VP of Product Management & Development at Triumph explains, "It looked a bit cumbersome before and it didn't always function like it should. Customer complaints were 100 percent about function, not the product. So, we knew if we alleviated this, our customers would be willing to try our product and keep using it. And alleviating objections would lead to increased market share. The challenge was that in order for the product to work, we had to have two solutions stored in separate bottles that are combined for the science to work."
"Keeping our retailers happy was important," adds Kappauff. He explains that retailers were interested in a trade up for consumers, a high-margin, repurchase rate and maintaining the current footprint. Although the package ended up slightly taller, it did not affect the footprint.
Package redesign
Late last year, Nottingham Spirk assisted in redesigning the existing package, which was introduced in 2006. The result was something consumers had never seen before—it involved eight different components. These included the two PET bottles, a PETG stage (a patent-pending dual-dispensing valve that dispenses product from both bottles into the dual dispensing spout so that products do not mix until poured), a foil seal, a foil seal, a patent-pending spout, an overcap, and a shrink-sleeve label.
The full-body tamper-evident shrink-sleeve label extends from the edge of the overcap to the edge of the base, measuring just short of 9 in. It is perforated on one edge to ease opening. The band is shrink-wrapped around the tapered body to the edge of the bottom, without going over the bottom.
The front of the label shows two "rivers" or solutions merging together, along with the copy, "Activated! 2 Solutions Working Together."
The shrink label's back panel provides information on why there are two solutions, as well as usage instructions, ingredient information, and a guarantee.
While Nottingham Spirk was confident that the design was doable, several manufacturers (about one-half dozen) thought not. That's when TricorBraun's team stepped in with a packaging consultant, a project manager, a quality engineer, the technical services team, and an engineering team in Asia that could build unit cavities and provide the necessary knowledge, experience and resources.
But TricorBraun still needed a partner willing to take on the manufacturing challenge that so many had turned down. It found that partner in Currier Plastics, Inc. Dellay explains, "TricorBraun never gives up and Currier was willing to take on the challenge. That was just the combination we needed."
Testing and functionality
Eight different package components meant six different potential leak points requiring extensive testing and validation. Leak analysis, dimensional analysis, foil analysis and spout application were just a few of the areas that were tested and adjusted as needed.
Communication and interaction by all parties including TricorBraun's U.S. and China offices, Triumph, Nottingham Spirk, Currier and the co-packer were crucial. "TricorBraun folks are experienced and knowledgeable and they know what is possible. They are relentless until they get there. They have the right resources and the right people to get the job done," says Andrew Burch, CEO of Triumph.
TricorBraun validated the dimensions of every part and fit. According to Matt Ramsdell, the company's Director of Project Engineering, "The stage was definitely the most difficult. The product wasn't blowing out the tubes so we had to open the gate in the tools so that more plastic could go in. Even though the manufacturing would be done here, we were able to keep costs down with molds and injection parts by utilizing the Asia location. The tweaks to the design took about three months and functional testing took about seven months.
"It was definitely a unique situation. The challenges could not be viewed in isolation of one another and every component needed changes. We knew from the start that the PETE bottle material with a PETG plug seal would be a challenge. While polypropylene would have worked well because of its pliability, it was not compatible with the product's ingredients so there really was no other option. We had to grow the diameter of the plug seal to avoid leakage. The foil was also changed for a cleaner pull. The bottle overflow capacity had to be increased by one-quarter ounce, so the bottle size got slightly bigger. The snap of the spout on to the stage had to be improved for consumer experience. We removed locator posts on the foil protector so that the capping force is more centralized and interference of the snap bead had to be optimized for manufacturability. Our focus was to validate that all changes made did what we intended them to do."
Jay Baum, Triumph's COO, notes, "Teamwork, communication and collaboration were key for testing and retesting. Everyone's input was important. TricorBraun took us to the next level and provided a really good product in the time that we needed it."
SmartMouth sells in mass, food/grocery, and drug stores nationwide, including Walmart, Walgreens, Rite Aid, Target, CVS, Meijer's, Kroger, Albertsons, Kmart, and other retailers. Prices typically range from $10 to $15.
Companies in this article