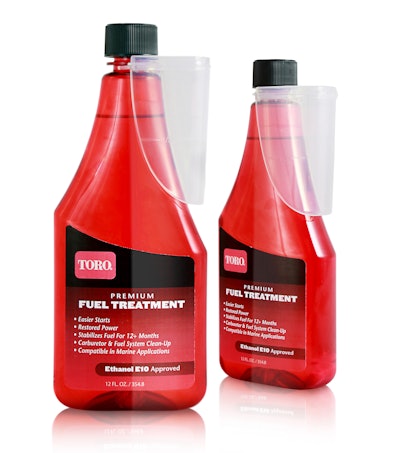 Automotive lubrication products company Lube-Tech, Inc. was looking to disrupt the fuel treatment category when it approached Berlin Packaging about creating an innovative design for its fuel treatment product line that not only made the brand stand out significantly on the shelf, but also made great strides in terms of practicality in usage.
At the time, the standard package design for fuel treatment products used in lawnmowers, snowmobiles, motorcycles, and ATVs typically consisted of dull-hued symmetrical bottles that blended together in the consumer's eye. What's more, the bottles either lacked useful measuring provisions or utilized an integrated measuring chamber that was both expensive and wasteful, not to mention unwieldy for the consumer to use in a garage or in the field. Traditional bottle materials such as high-density polyethylene and polyvinyl chloride brought problems such as solvent leaching and environmental concerns.
Berlin responded with a package design that made strides in both visual boldness and ease of use. The design is an industry first: a custom long-neck asymmetrical PET bottle featuring vibrant color options that strengthen differentiation on the shelf, and a unique polypropylene measuring cup that snaps onto the bottle neck. The cup can be reused from bottle to bottle and has a hinged lid that seals out dirt and contaminants when it's not in use. Both bottle and measuring cup have molded graduations in milliliters and ounces for accurate measuring. Designed for private labeling for Lube-Tech's customers, the package can be delivered in any color, with or without the measuring cup.
Since launch of the new design, sales have increased by 30%. The package also yields a 16% material reduction and a 43% cost reduction over the previous one while also providing easy recyclability typically not available with the PVC packaging common to this category. Lube-Tech's corrugated shipping carton square footage was also reduced by 17%, and the outgoing product per pallet increased by 32%, all helping to reduce corrugated, pallet, and freight usage.
Companies in this article