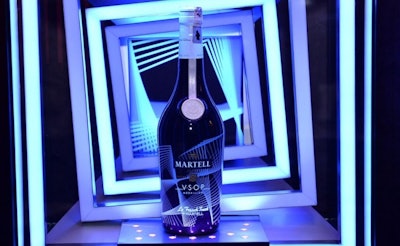 Spirits brands are embracing the energy and modernity of electronic music with limited-edition packaging that conjures up the excitement and possibilities of the nightlife. First, Absolut introduced its Electrik bottle for the winter season, in mirrored metallic silver and blue versions, inspired by the minimal and repetitive nature of house music. Now, Parisian cognac house Martell has unveiled La French Touch by Martell, designed by DJ and producer Etienne de Crécy, "the living incarnation of the French Touch" music revolution, according to Martell.
French Touch—also referred to as French house, filter house, and tekfunk—is a style of house music that emerged in France beginning in the 1990s. Says Martell, "In the space of 20 years, the French Touch has become one of the biggest musical revolutions of the 20th century, through its unique contemporary and planetary sound."
To celebrate the French Art de Vivre embodied by the French Touch and link it with its own 300th anniversary celebration, Martell selected de Crécy to orchestrate the design of the limited edition, which Martell says "embodies all the creative collective energy of a French trend, now an international reference."
The graphics of the label design harken back to de Crécy's SQUARE CUBE, a giant neon scaffolding structure used in his 2007 tour. "The CUBE, an iconic unit of the universe and of the performance of Etienne de Crecy, is present as luminous lines on this limited-edition bottle," explains Jean-Pascal Martin Festa, Purchasing & Development Director for Martell. "It recalls the composition studio, or the center stage of a nightclub or art gallery, where one is throbbing to the beat of a musical performance."
The design is not only luminous, but the cube design is printed with neon blue luminescent inks that glow and vibrate under UV light. The blue rotating lines stand out against the label's blue background. Explains de Crécy, "For this bottle, I needed a dark, deep, and dense background in order to get the neons to vibrate. The famous Martell blue seemed the obvious choice. Especially as the color also symbolizes nighttime, with all its electricity and its attractions."
The label, constructed of metallized paper, is flexo- and offset-printed with luminescent inks plus a matte gold foil, and matte and gloss varnish, by Eurostampa.
With the exception of the label, the rest of the bottle follows the traditional Martell design, including a seal on the front of the bottle, a logo embossed on the neck, and the gold capsule. However, for La French Touch, Martell is using a blue bottle rather than clear glass.
La French Touch is available in Martell VS, Martell VSOP, and Martell Noblige cognac varieties and is sold in Asia, Europe, and the U.K. –Anne Marie Mohan
Companies in this article