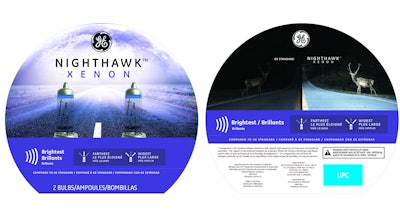 With a new package design for its GE Nighthawk line of automotive lighting products, GE Lighting North America is hoping to improve the brand's retail visibility and make product selection easier for consumers. The line comprises three automotive bulb varieties—Nighthawk (good), Nighthawk Premium (better), and Nighthawk Xenon (best)—introduced some years ago as a brighter alternative to standard halogen headlights. Since then, GE has continued to improve the brand to offer lighting that is brighter, farther, and wider than its standard products.
In spring 2015, the GE team began a package redesign project for the brand with two objectives: to maximize selling and warehousing space for the retailer, and simplify the shopping experience for the consumer. To accomplish the first, GE decreased the size of the blister-pack card, reducing the footprint of the package up to 30%.
"Based on our top buyers' feedback, we optimized our packaging to meet their needs," says GE Lighting National Automotive Sales Manager Robert E. Gill. "This allows the retailer to maximize the space needed to show an entire assortment, and even provides additional selling space for new categories."
The project encompassed the restructuring of packaging for GE's single- and double-pack halogen lights, along with all of its miniature and commercial packs. Although the packs became smaller, the package format remained the same: a chipboard card with blister that can be pegged in retail environments and provides full visibility of the product.
To make consumer product selection easier, GE devised a color system that distinguishs between bulbs in the series. Gold is used for Nighthawk, blue for Premium, and purple for Xenon. Featured on the card are graphics of a road leading into the distance, lit by headlights. The bulbs themselves are centered in the blister on top of the road graphic.
"The GE Nighthawk headlight package redesign introduces a premium look to complement the quality level of the Nighthawk series product, and it includes the creation of a visual icon system that shows the tiers of the product selection," explains Gill. The icons, positioned on the bottom of the card, describe how bright, how far, and how wide the bulb performs as compared to GE's line of standard automotive bulbs.
GE Lighting first introduced the new packaging at the 2015 Automotive Aftermarket Products Expo in November 2015; retail launch is planned for spring 2016. GE Nighthawk headlights are sold nationwide through automotive retailers and distributors as well as through Amazon and GElighting.com. The suggested retail price for the product is from $7.99 for a single bulb to $69.99 for a Xenon twin-pack.