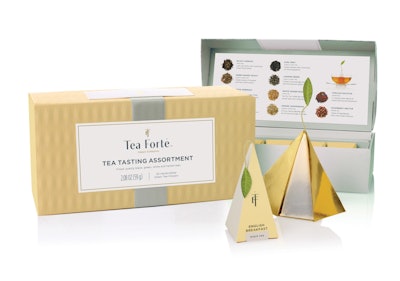 Tea Forte® has presented its new custom look, designed to enhance its position as a luxury lifestyle tea brand. Known for its opulent approach to the world's second most consumed beverage, the company's new narrative includes a rebirth of a cleaner, contemporary logo and a more elegant sensory package design with continued curated collection stories.
"Innovation and the marriage of quality and design has always been an over-arching cornerstone and narrative provenance of Tea Forte, but our evolution takes this to a further stratum," says Tea Forte Chief Creative Compass Stuart Avery Gold. "While we have always been front of mind about the very highest level of quality and aesthetics, which helped Tea Forte to define and occupy an upper echelon prominence in the space, this new initiative is intended to immerse the consumer even further into an engaging and experiential tea experience."
Jan Hoorntje, CEO of Tea Forte, says that the brand had already accomplished a certain status value, but methodical attention to stylized design and aiming for the finest quality has continued to redefine the staid legacy of tea to a more contemporary experience for the Millennial generation, which has started to turn to tea over coffee.
According to a new YouGov survey, 42% of Americans under age 30 prefer to drink tea, with an identical 42% saying they prefer coffee. Further, 27% of Millennials only drink tea. That's a shifting difference from those over the age of 65 saying they prefer coffee.
"The tea time trend has been accelerating for years," says Gold. "The number of daily coffee drinkers has decreased over the past three years, according to the National Coffee Association, while American tea sales continue to rise, now a $10.8 billion-a-year industry, according to the Tea Association of the U.S.A. It is certainly why Starbucks who owns Tazo and Teavana has become more seriously focused on tea, recognizing its runway for growth. We at Tea Forte are excited to take this next seamless step into the generational forward lifestyle of a new changing consumer era."
"Our aim is to continue to write a new chapter for our category," adds Hoorntje. "The response to our unique, one-of-a- kind experiencesare unequaled and are of the type that inspire and invite tea lovers to discover."
Companies in this article