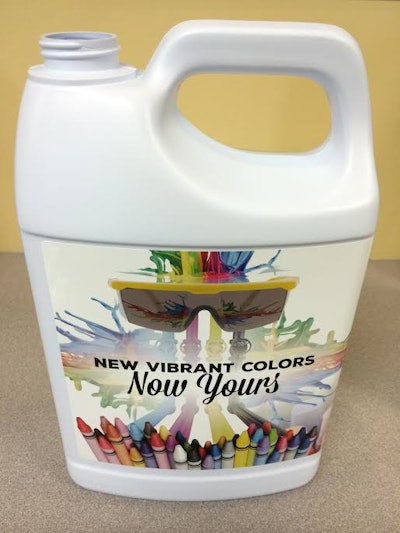 Misco Products Corp., Reading, PA, manufactures a full range (approximately 14,000 SKUs) of private brand liquid cleaning and floor coating products for more than 380 distributors in janitorial, industrial, and commercial markets. To accommodate these diverse products, packaged in more than 100 various containers sizes/shapes/volumes, the company may print 800 to 1500 different label images daily.
The HDPE and PET bottles are supplied by Consolidated Container and Berlin Packaging and are filled and capped using equipment from various manufacturers. Misco uses pressure-sensative label application equipment from Tronics.
Marketing Director Nick Levandusky notes, "We print all our labels in-house. We don't depend on a label converter. We either get the artwork from our private label customers or rely on our in-house graphics team to make the label design. These various labels are saved on our network and pulled up onto the press and printed, as needed. Depending on the run, we can apply the labels manually or mechanically."
Misco was a trail blazer in implementing four-color digital printing operations versus more traditional two-color silk screen printing for plastic containers. Misco VP of Operations Dave Kutz recalls, "When we started out, we had two digital printing presses, but we had quality, reliability, and time-intensive cleaning, maintenance, and color recalibration issues with those. We were not consistently able to produce all the labels we needed in-house. And so we actually outsourced large quantities of label printing. As a result, sometimes we ended up having too many labels sitting around or not enough in inventory. We calculated that we had 86 days' worth of finished label inventory on hand. Our Marketing Manager at the time, with the blessing of the entire management team, threw the label inventory into the trash. We made a commitment that, moving forward, we would print every label that we needed in-house each day and not maintain any label inventory on-hand."
Analyzing digital options
To achieve this objective, Misco carefully evaluated various digital printing systems. At Label Expo 2012, Kutz and Misco's Press Room Supervisor Ken Brown explored new options. They were interested in the Domino digital printing systems they saw at the show, but were hesitant because they felt these systems were not yet well-established in commercial applications. At Label Expo 2014, Misco took another look at the Domino technology with more urgency. Their current digital presses had gotten to the point where growing operational inefficiencies no longer could be supported. Kutz and Levandusky ultimately made a visit to an existing Domino customer to observe the label printing operations, and concluded that the N610i digital UV inkjet label press from Domino was the best fit for their operations, too.
Levandusky points outs, "When Misco started looking, we asked Domino to print some label samples. Then we visited their facility in Gurnee, IL, 18 months later to test these same files. We compared the two sets of labels printed 18 months apart. There was no visible difference in color, quality, or consistency."
Kutz notes, "We did our due diligence to make sure the Domino was the right choice. We wanted to make certain that our Press Room Supervisor Ken Brown would feel comfortable with and confident in the new press. And because this system operates much faster and more efficiently than the old presses, Ken was concerned that some people in his department might lose their jobs when the new press was installed. We made it clear that nobody was going to lose their job or take a pay cut, and that everybody was going to be trained on how to use the new printing equipment. And Domino staff provided a great basic press training program."
Most of Misco's pressure-sensitive labels currently are printed on medium gloss white polypropylene 7" or 10"-wide face rollstock from Polykote. The printed rolls are then sent to Misco's die-cut station for separation and dispensing to individual production runs. This digital printing system facilitates quick changeovers, helping Misco to more easily handle short runs and custom branding situations.
Enumerating the efficiencies
With the Domino press, Misco is able to produce all of the labels it needs daily on one press with one operator in half the time it used to take with two presses. So the company is confident that it can accommodate growth without having to add new presses or press operators in the immediate future.
A single Domino N610i digital UV ink-jet label press was installed to replace Misco's two old digital toner-based presses in January 2015. Transition was very smooth. The new press, requiring only one operator versus the two required for the old presses, is much easier to use. The Domino also is faster than the two old presses—printing at a minimum of 164 ft/min, versus 24 ft/min. And changeovers from one substrate to another are much simpler to accomplish.
Color calibration is much more precise and consistent, producing a more vibrant and expanded gamut of colors, covering over 90% of the Pantone range. Kutz notes, "With the Domino, we are getting a wider range of colors…the bright pinks, deep oranges, bold yellows and blacks. Our customers are now seeing what they only had dreamed of. They were happy with what they had before, but they are thrilled with what they have now."
The system uses UV ink, no toner, providing highly durable labels. In fact, to test the durability of the UV inkjet-printed labels, Misco conducted chemical testing by soaking the labels in beakers of chemicals. Kutz says, "We used some of the most aggressive industrial solvents in the cleaning industry, such as glycol ethers. We tested solvents and acids and alkalis to make sure the labels would be resistant to chemicals we manufacture and bottle, and we had no problems whatsoever."
Levandusky points out, "With the previous presses, after we printed, we would have to lay down a Mylar laminate over the top of the labels to protect the print surface, then proceed to die-cutting. But with the Domino, we don't need the laminate. The Domino utilizes UV inks, and we don't see any of the scratch issues that we experienced with the old toner-based presses. By not having to use the laminate, we are able to reduce label thickness by 35 to 40%. That's important from a sustainability standpoint. We have customers who are looking to down-gauge to fulfill green initiatives."
In addition, Misco does not need to warehouse excess label inventory. Misco prints on demand the quantity needed and, at most, warehouses only one day's supply of printed labels. Consumables (ink versus toner) space storage is only 10% of that used with the old digital presses. And the amount of time spent on preventative maintenance is less than 25% of what was required with the old presses. Kutz estimates, "We spent about two hours per day on maintenance with the old printers. Now we spend about 30 minutes per day."
All things considered, Misco estimates an easy 2 ½ year payback time on the new label press. Summing up, Kutz says, "Our partnership with Domino staffers helped make us more efficient, streamlining the process, saving time, and reducing errors. We realized that we could easily create and import a print queue for the press. So right now, 80% of our print jobs are automatically generated and loaded. The team at Domino is fantastic…the support they give, the effort they give, the care they take. It is great being a Domino customer. Let me put it this way. If money were no object, I would buy another Domino press tomorrow."
For more information on digital label printing, please visit dominodigitalprinting.com.
Watch a video related to this article at pwgo.to/1866.
Companies in this article