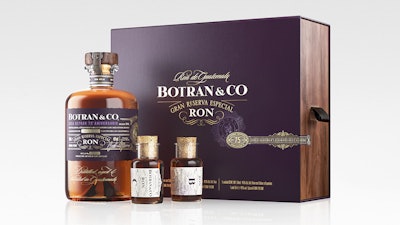 To celebrate its 75th anniversary, Guatemalan rum house Casa Botran has introduced an exclusive new product, Botran & Co, that highlights its history and passion for blending and crafting rum. Featuring traditional rum along with smaller quantities of flavoured rum, the new product was designed to be an invitation to co-creation, a tribute to bartenders and the world of mixology, empowering consumers to create their perfect drink and allowing them to emulate mixologists while doing so.
Botran & Co rum gets its complex qualities by means of passage through different casks: white oak casks formerly used for American Whisky, toasted casks, and casks used in the past to age Sherries, ports, and fine South American wines.
Packaging for the new product, designed by Appartement 103, comprises a wooden box that contains a 50-cL rum bottle carefully selected to evoke the craft and refinement of the product, which comes from the family's private reserve and has been aged for up to 30 years.
Two mini 5-cL bottles, containing Spiced Rum and Citrus Rum, were specially designed to complement the main product, offering consumers the opportunity to explore different tastes by mixing them with Botran & Co. In order to do so, a pipette and an explanatory leaflet complete the set.
Says Joao Paulo Oliveira, Appartement 103's Head of Business Development, "We understand that Casa Botran is the first rum maker to release a product that allows the consumer to define the flavor profile of the rum in such a customizable way. Therefore, our creative team was thrilled to bring this ritual concept to life by developing a solution that highlights the heritage as well as the contemporary vision of the company in producing refined aged rums. It's a unique journey, immersing the consumers in the magical art of mixology."
"The design is unique and boosts refined detailing. The elegance of the deep, dark purple paper allowed us to contrast an exceptional work of gold hot-foil typography, expressing the legendary know-how of Casa Botran," adds Appartement 103 Creative Director Marc Savary. "The carefully designed embossed stamp on the label, the organic selected paper, as well as the hand-drawn, screened typeface on the glass, reinforce the long history of the company, ensuring the heritage and quality perception of the brand. The Casa Botran shield was placed on the right side of the label, endorsing the product with confidence through a gold hot-foil stamp, triggering the consumer's curiosity to turn the bottle around and discover it as a whole."
Botran & Co was officially launched on September 30, 2015 during Casa Botran's 75th anniversary party at the Casino de Madrid. The limited edition series features 9.972 units.